To open the fuel tank cover, set the key to "OFF" or " ON", then press and turn it clockwise.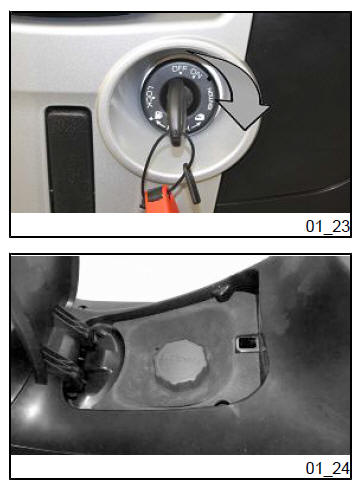 Opening the saddle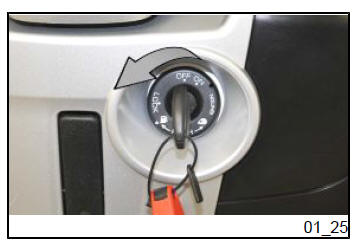 To open the seat to the positions with the ignition switch in OFF and ON, press the key and rotate counter clockwise.
Identification
Identification registration numbers are made up of a prefix and a number, stamped on the chassis and on the engine. These numbers must always be quoted when ordering spare parts. We recommend checking that the chassis registration number stamped on the vehicle corresponds with that on the vehicle documentation.
CAUTION

BE REMINDED THAT ALTERING IDENTIFICATION REGISTRATION NUMBERS CAN LEAD TO SERIOUS PENAL SANCTIONS (IMPOUNDING OF THE VEHICLE, ETC.).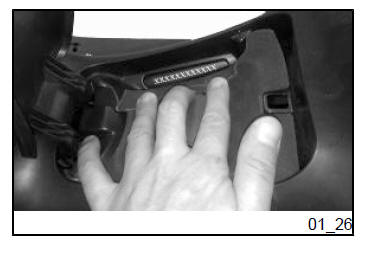 Chassis number
To read the chassis number, open the lid to access the fuel tank and lift the rubber recycling tank.
Engine number
The engine number "B" is stamped near the rear left shock absorber lower support.
Bag clip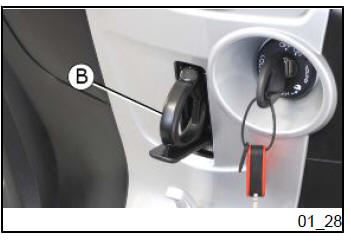 To use the retractable bag hook "B" mounted on the leg shield back plate, pull it slightly towards the back of the vehicle.
See also:
In order to enhance theft protection, the vehicle is equipped with a "PIAGGIO IMMOBILIZER " electronic engine locking device that is activated automatically when the ignition switch is removed. Upon start-up, the "PIAGGIO IMMOBILIZER" system checks the starter key, and only if this key is recognised will the Immobiliser system allow the vehicle to be started.