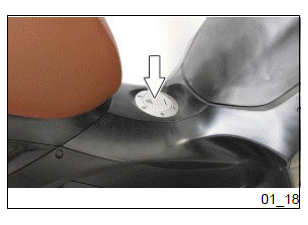 Raise the lock protection tab on the fuel tank cap. Insert the key and turn anticlockwise to remove the cap.
Power supply socket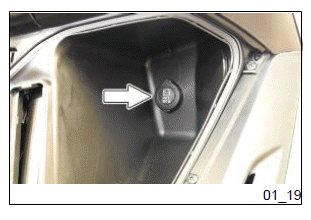 There is a plug socket inside the front case.
The plug socket may be used for external consumers (mobile phone, inspection light, etc.).
CAUTION
PROLONGED USE OF THE PLUG SOCKET MAY RESULT IN PARTIAL DISCHARGE OF THE BATTERY
Electric characteristic
Plug socket
12 V - 180 W MAX
Opening the saddle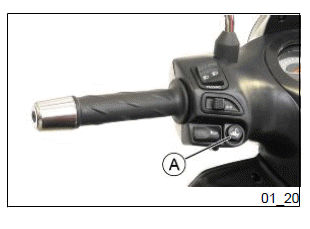 With the key in position "OFF" or "ON" or with the engine ON, you can electrically open the saddle by pressing button "A". If the electric opening does not work, use the emergency lever B.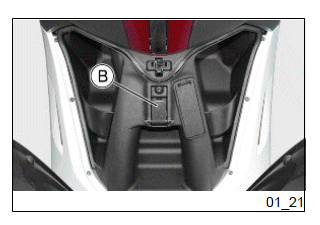 Identification
Identification registration numbers are made up of a prefix and a number embossed on the chassis and on the engine. These numbers must always be quoted when ordering spare parts. We recommend checking that the chassis registration number stamped on the vehicle corresponds with that on the vehicle documentation.
CAUTION
BE REMINDED THAT ALTERING IDENTIFICATION REGISTRATION NUMBERS CAN LEAD TO SERIOUS PENAL SANCTIONS (IMPOUNDING OF THE VEHICLE, ETC.).
Chassis number
To read the chassis number, remove the port A in the front case.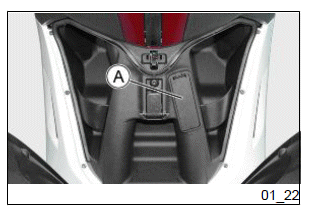 Engine number
The engine number "B" is stamped near the rear left shock absorber lower support.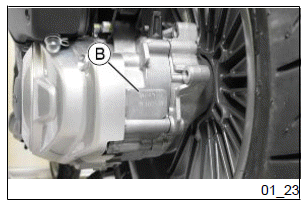 Rear top box opening
Insert the key into the switch and press down until the glove compartment opens. In the event that the switch is in "LOCK", turn the key to "OFF" or "ON" before pressing it.
Bag clip
To use retractile bag hook mounted on the leg shield back plate, it is necessary to turn it towards the rear part of the vehicle pressing where indicated by the arrow.
See also:
In order to enhance theft protection, the vehicle is equipped with a "PIAGGIO IMMOBILIZER " electronic engine locking device that is activated automatically when the ignition switch is removed. Upon start-up, the "PIAGGIO IMMOBILIZER" system checks the starter key, and only if this key is recognised will the Immobiliser system allow the vehicle to be started.