To ensure simple, pleasurable riding, the vehicle is equipped with automatic transmission with regulator and centrifugal clutch. The system is designed to provide the best performance (acceleration and consumption) while driving on both flat roads and uphill.
If you have to stop on an uphill slope (traffic lights, traffic jam, etc.) only use the brake to keep the vehicle still, leaving the motor running at idling speed. Using the engine to keep the vehicle still can cause the clutch to overheat, due to the friction of the clutch mechanism itself against the capstan.
It is therefore recommended to avoid conditions of prolonged clutch slippage (other than those previously indicated) like driving uphill fully laden on steep slopes or starting off with driver and passenger at slopes greater than 25%.
Take the following precautions if the clutch overheats:
1. Do not continue riding in such conditions.
2. Let the clutch cool down with the engine at idle speed for a few minutes.
Safe driving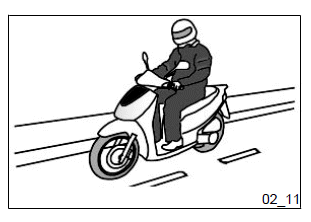 Some simple tips are provided below that will enable you to use your vehicle on a daily basis, confidently and safely. Your skill and your mechanical knowledge are the basis of safe riding. We recommend trying out the vehicle in traffic-free zones to familiarise with it.
1. Before riding off, remember to put on your helmet and fasten it correctly.
2.Reduce speed on rough roads and ride with care.
3. After riding on a long stretch of wet road without using the brakes, braking can be poor at the beginning. Under these conditions, it is a good idea to operate the brakes from time to time.
4. Do not brake hard on wet, dirt or slippery road surfaces.
5. Avoid riding off by mounting the scooter when resting on the support. In any case, the rear wheel should not be turning when it comes into contact with the ground, in order to avoid abrupt departures.
6. When riding along roads covered by sand, mud, snow mixed with salt, etc. We recommend cleaning the brake disc frequently with a non-corrosive detergent in order to prevent corrosive particles from building up in the holes, which may cause early brake pad wear.
CAUTION
ALWAYS RIDE WITHIN YOUR LIMITS RIDING UNDER THE INFLUENCE OF ALCOHOL OR OTHER DRUGS AND CERTAIN MEDICINES IS EXTREMELY DANGEROUS.
CAUTION
IN ORDER TO PREVENT ANY ACCIDENTS RIDE VERY CAREFULLY AFTER ADDING ACCESSORIES AND WHILE CARRYING LUGGAGE. ADDING ACCESSORIES AND LUGGAGE CAN REDUCE THE VEHICLE'S STABILITY, PERFORMANCE AND SAFETY DURING USE.
WARNING
NEVER RIDE THE SCOOTER EQUIPPED WITH ACCESSORIES (TOP BOX AND/ OR WINDSHIELD) AT A SPEED HIGHER THAN 100 km/h.
THE SCOOTER CAN BE RIDDEN AT A HIGHER SPEED WITHOUT THE ACCESSORIES MENTIONED BEFORE WITHIN THE LIMITS ESTABLISHED BY LAW.
IF THERE ARE ANY NON-PIAGGIO ACCESSORIES INSTALLED, OR AN ABNORMAL LOAD, OR IF THE SCOOTER IS NOT IN A GENERALLY GOOD CONDITION, OR WHENEVER WEATHER CONDITIONS DEMAND IT, SPEED SHOULD BE FURTHER REDUCED.
CAUTION
DO NOT ADJUST THE MIRRORS WHILE RIDING. THIS COULD CAUSE YOU TO LOOSE CONTROL OF THE VEHICLE.
CAUTION
ANY ELABORATION THAT MODIFIES THE VEHICLE'S PERFORMANCES, SUCH AS TAMPERING WITH ORIGINAL STRUCTURAL PARTS IS STRICTLY FORBIDDEN BY LAW, AND RENDERS THE VEHICLE NO LONGER CONFORMING TO THE APPROVED TYPE AND DANGEROUS FOR RIDING.
See also:
The vehicle is equipped with an ignition prevention system controlled by the side stand. The engine cannot be started if the side stand is lowered.