Before using the vehicle, check:
1. That there is enough fuel in the fuel tank.
2. That the fluid level for front and rear brakes is correct.
3. That tyres are properly inflated.
4. The correct functioning of daylight running lights, headlamp, turn indicators, stop light and license plate light.
5. The correct functioning of front and rear brakes.
6. The oil level in the gearcase.
7. Engine oil level.
8. The coolant level.
Refuelling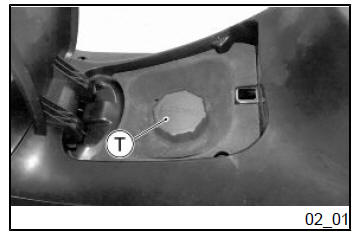 Fuel: Open the access door to the fuel tank cap and remove the cap "T".
Recommended fuel: Unleaded petrol, min octane rating of 95. The instrument "G" indicates fuel level and the warning light "L" signals the reserve.
WARNING

SWITCH OFF THE ENGINE BEFORE REFUELLING WITH PETROL.
PETROL IS HIGHLY INFLAMMABLE.
DO NOT SMOKE AND KEEP NAKED FLAMES AT A DISTANCE: FIRE HAZARD.
DO NOT INHALE FUEL FUMES.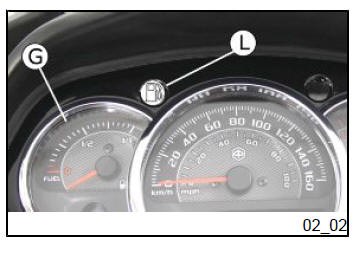 DO NOT ALLOW PETROL TO COME INTO CONTACT WITH HOT ENGINE OR ANY PLASTIC PARTS.
CAUTION

PETROL DAMAGES THE PLASTIC PARTS OF THE BODYWORK.
WARNING

DO NOT RIDE WITH THE FUEL TANK ALMOST EMPTY, LACK OF FUEL CAN DAMAGE THE CATALYTIC CONVERTER.
CAUTION

USING NON-RECOMMENDED PETROL REDUCES THE EFFICIENCY OF THE EXHAUST AND FUEL SUPPLY SYSTEMS.
CAUTION

DO NOT USE THE VEHICLE TO THE COMPLETE EXHAUSTION OF THE FUEL; SHOULD THIS OCCUR, DO NOT ATTEMPT TO START THE ENGINE. TURN THE IGNITION SWITCH TO "OFF" AND TOP-UP THE TANK AS SOON AS POSSIBLE.
FAILURE TO FOLLOW THESE GUIDELINES COULD DAMAGE THE FUEL PUMP AND/OR THE CATALYTIC CONVERTER.
WARNING

IT IS HIGHLY INADVISABLE TO REFUEL USING METHODS OTHER THAN NORMAL FUEL PUMPS. IF PETROL IS NOT COMPLETELY CLEAN, IT CAN DAMAGE THE FUEL SUPPLY SYSTEM FILTERS.
CAUTION

USING OILS OTHER THAN THOSE RECOMMENDED CAN SHORTEN THE LIFE OF THE ENGINE.
Characteristic
Fuel tank (reserve)
11.0 (2l)
Tyre pressure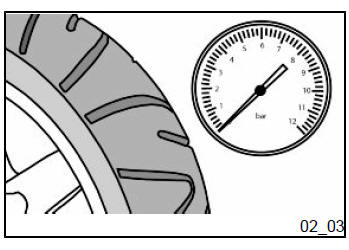 Check tyre pressure and wear periodically (roughly every 500 km). Tyres feature wear indicators; replace tyres as soon as these indicators become visible on the tyre tread.
Also check that the tyres do not show signs of splitting at the sides or irregular tread wear; if this occurs go to an authorised workshop or at least to a workshop equipped to replace tyres.
CAUTION

TYRE PRESSURE SHOULD BE CHECKED WHEN TYRES ARE COLD.INCORRECT TYRE PRESSURE CAUSES ABNORMAL TYRE WEAR AND MAKES RIDING DANGEROUS.
TYRES MUST BE REPLACED WHEN THE TREAD REACHES THE WEAR LIMITS SET FORTH BY LAW.
TYRE INFLATION PRESSURE

TYRES

See also:
The preloading of the springs can be adjusted to 4 positions acting on the ring nut located in the lower part of the shock absorbers with the specific spanner supplied.