Level check
Check coolant when the engine is cold and as indicated in the scheduled maintenance tables, following the steps below.
Set the vehicle upright on the stand and remove the cover by undoing screw "A".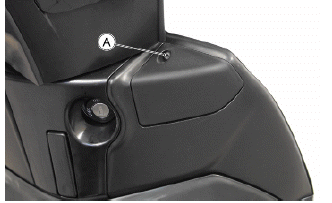 Remove the expansion tank cover "B" by turning it anticlockwise.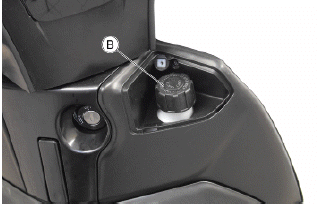 Look inside the expansion tank and check that the level is between MIN and MAX. Top-up when the liquid does not reach the level MIN.

If the level is not correct, proceed to top-up when the engine is cold. If the coolant needs to be topped up frequently or the expansion tank is completely dry, check the cooling system to find the cause of the problem.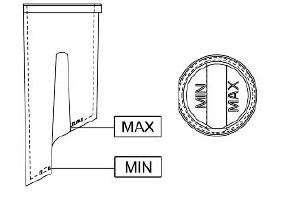 WARNING
TO AVOID THE RISK OF SCALDING, DO NOT UNSCREW THE EXPANSION TANK COVER WHILE THE ENGINE IS STILL HOT.
WARNING
IN ORDER TO AVOID HARMFUL FLUID LEAKS WHILE RIDING, IT IS IMPORTANT TO MAKE SURE THAT THE LEVEL DOES NOT EXCEED THE REFERENCE TONGUE TOO MUCH.
TO ENSURE CORRECT ENGINE OPERATION, KEEP THE RADIATOR GRILLE CLEAN.
Recommended products
AGIP PERMANENT SPEZIAL Ethylene glycolbased antifreeze fluid with organic inhibition additives. Red, ready to use.
ASTM D 3306 - ASTM D 4656 - ASTM D 4985 - CUNA NC 956-16
See also:
Replacement Change oil and replace filter as indicated in the scheduled maintenance table. In order to facilitate oil drainage, unscrew the cap/ dipstick "A". Unscrew the mesh pre-filter drainage plug "B" on the flywheel side and let the oil drain off. Once all the oil has drained through the drainage hole, unscrew and remove the oil cartridge filter "C ".
Level check The front and rear brake fluid reservoirs are both positioned on the handlebar. Proceed as follows: Rest the vehicle onto the centre stand, with the handlebar centred. Check the fluid level through the sight glass "A".