Circuit diagram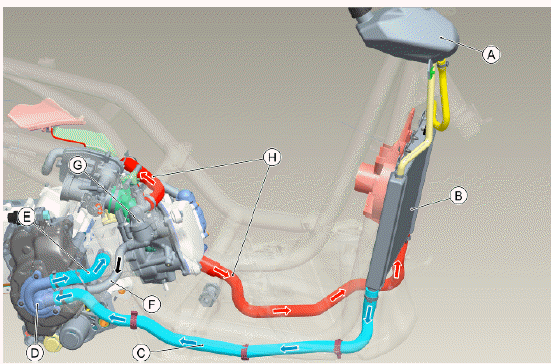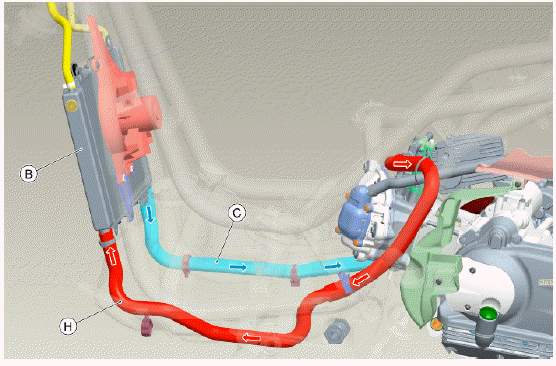 KEY
A = Expansion tank
B = Radiator
C = Radiator intake pipe
D = Water pump
E = Delivery pipe to cylinder
F = By-Pass pipe
G = Thermostat
H = Radiator delivery pipe
TECHNICAL SPECIFICATIONS

THERMOSTAT

ELECTRIC VENTILATION

WATER PUMP

RADIATOR

EXPANSION TANK

Electric fan check
Check and, if necessary, restore the correct battery voltage.
Characteristic
Battery voltage
12V
Check that the electric ventilation relay is working properly.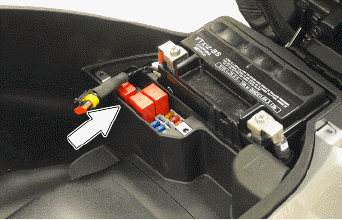 WARNING
TO INDICATE THE RELAY OF THE DESIRED FUNCTION, REFER TO THE PIN-CABLE COLOUR RELATIONSHIP WITH THE ATTACHED ELECTRIC SYSTEM DIAGRAM.
If the relay is not working, replace it.
If the relay is working, remove it and jump the red
red black (85 - 86) wires. The electric ventilation starts if the ignition switch is set to "ON" and all components are working.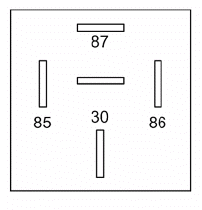 In order to check the coolant temperature sensor, see the "Injection" chapter.
System bleed
Start up the engine until the operating temperature is reached.
Remove the rubber hood over the bleed valve
Obtain a rubber tube that is of the right length to connect the valve to the expansion tank
Place one end of the pipe on the bleed valve and the other in the expansion tank
Loosen the screw by two turns until the communication hole is revealed with the head as shown in the picture
Wait until only coolant comes out of the rubber pipe so as to eliminate any air bubbles inside the circuit.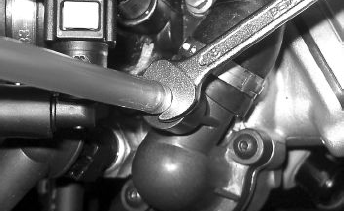 Tighten the bleed valve respecting the maximum torque.
Bring the coolant up to the correct level inside the expansion tank
Locking torques (N*m)
Bleed screw 3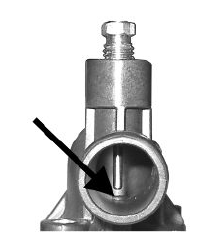 Thermostat
Removal
Remove the helmet compartment inspection cover.
Place a + 2.0 l container under the vehicle to collect the coolant.
Undo the two screws indicated, lift the cover and remove the thermostat.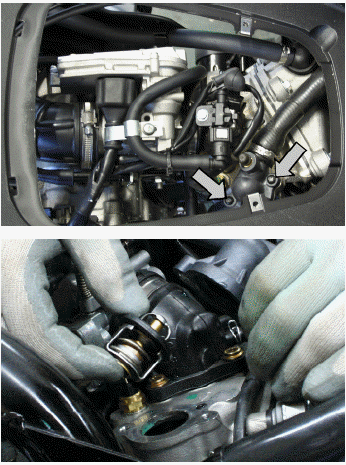 Check
1) Visually inspect that the thermostat is not damaged.
2) Fill a metal container with approx. 1 litre of water.
Immerse the thermostat, and keep it in the centre of the container.
Immerse the multimeter temperature probe, and keep it close to the thermostat.
Heat up the container using the thermal gun.
Check the temperature at which the thermostat starts to open:
Heat up until the thermostat is completely open.
3) Replace the thermostat if it is not working properly.
CAUTION
TO EXECUTE THE TEST CORRECTLY, MAKE SURE NEITHER THE THERMOSTAT NOR THE THERMOMETER TOUCHES THE CONTAINER.
Specific tooling
020331Y Digital multimeter
020151Y Air heater
THERMOSTAT
Refitting
Follow the removal steps but in reverse order; be careful to tighten screws to the prescribed torque.
Locking torques (N*m)
Thermostat cover screws 3 ÷ 4
Once the cooling circuit is restored, refill using the recommended product and purge the circuit as expressly indicated in the "Cooling System" chapter.
See also:
Front brake pump Removal Remove the rear handlebar cover. Drain the braking system. Disconnect the brake fluid line from the pump, paying attention to a possible escape of remaining brake fluid. Remove the brake stop button from the lever. Undo the two U-bolt fixing screws. Remove the brake pump with the lever.