Automatic Transmission Symptom Diagnosis

Repair Instructions
Outer Clutch Cover Cushion Construction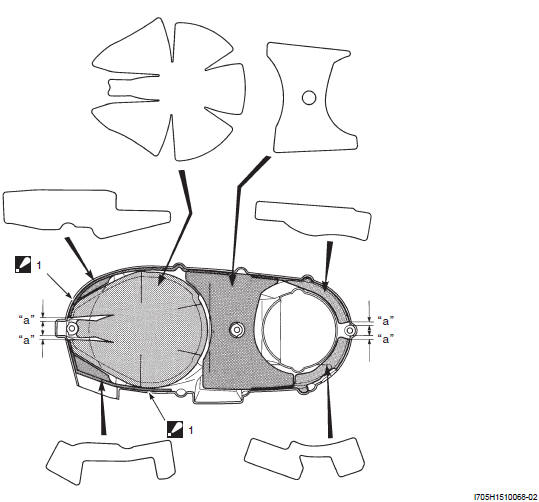 Cushion
: Stick top of cushion 0 - 5 mm (0 - 0.2 in) inside of the clutch outer cover.

5 - 10 mm (0.2 - 0.4 in)
Clutch In / Stall Speed Inspection
Refer to "Automatic Clutch Inspection".
V-belt Type Continuously Variable Automatic Transmission Removal and Installation
Removal
Clutch cover
1) Remove the side leg shield. Refer to "Side Leg Shield Removal and Installation".
2) Remove the belt cooling duct (1) and outer clutch cover (2).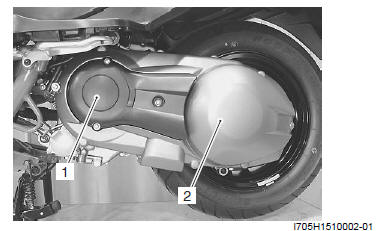 3) Unfasten the clamp and remove the inner clutch cover (3).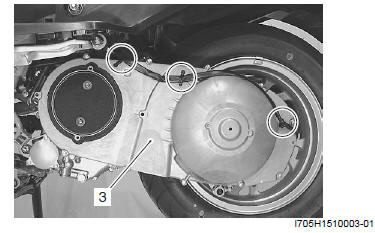 Movable drive face
1) Hold the fixed drive face using the special tools and remove the fixed drive face nut and washer.
! WARNING
To prevent the fin from breakage or injury from occurring due to inadvertent slipping, engage the tool end with the side of pulley securely and make sure the contact is on a center area of the fin.
Remove the drive face nut with pressing the special tool to the drive face.
Special tool
(A): 09920-53740 (Clutch sleeve hub holder)
(B): 09920-31020 (Extension handle)
2) Remove the fixed drive face (1).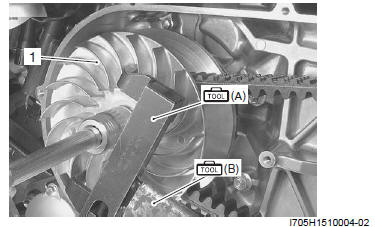 3) Remove the V-belt (2) and remove the movable drive face assembly (3) together with the spacer (4).
See also:
Precautions Precautions for Transmission/Transaxle Refer to "General Precautions". Automatic Transmission
1) Hold the clutch housing using the special tool and remove the clutch housing nut (1) and remove the clutch housing (2). Special tool (A): 09930-40113 (Rotor holder)