Removing the hub cover
Remove the clip fixing the sleeve to the cylinder.
Remove the 10 clamps
Remove the flywheel cover.
Removing the stator
Remove the two pickup screws and the screw holding the wiring support and the three stator clamping screws shown in the figure.
Remove the stator and its wiring.
Refitting the stator
Refit the stator and flywheel carrying out the removal procedure in reverse, tightening the retainers to the specified torque.
Locking torques (N*m)
Stator assembly screws (º) 3 to 4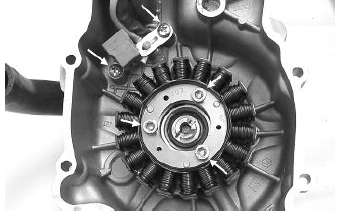 Refitting the flywheel cover
Position the spline clip on the crankshaft and orient the end as shown in the figure.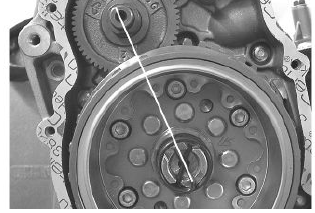 Orient the water pump shaft with reference to the transmission gear seat as shown in the picture.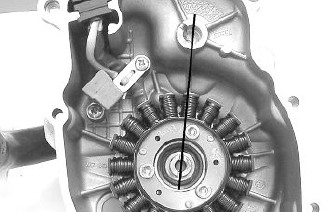 Refit the cover over the engine and tighten the screws to the prescribed torque.
Carry out the removal steps but in the reverse order.
CAUTION
TAKE CARE TO CORRECTLY POSITION THE FLYWHEEL CONNECTOR. MAKE SURE THE CENTRING DOWELS ARE PRESENT.
Locking torques (N*m)
Flywheel cover screws 11 - 13
See also:
Removing the hub cover Empty the rear hub through the oil drainage plug. Remove the 7 flanged screws indicated in the figure. Remove the hub cover and its gasket.
Removing the starter motor Remove the two screws indicated in the figure Take the starter motor out of its seat