Symbols
Listed in the table below are the symbols indicating instructions and other information necessary for servicing.
The meaning of each symbol is also included in the table.

Torque control required.
Data beside it indicates specified torque.

Apply oil.
Use engine oil unless otherwise specified.

Apply molybdenum oil solution (Mixture of engine oil and SUZUKl MOLY PASTE in a ratio of 1:1).

Apply SUZUKI SUPER GREASE "A" or equivalent.
99000-25010

Apply SUZUKI MOLY PASTE or equivalent.
99000-25140

Apply SUZUKI SILICONE GREASE or equivalent.
99000-25100

Apply SUZUKI BOND "1207B" or equivalent.
99000-31140

Apply SUZUKI BOND "1215" or equivalent.
99000-31110

Apply THREAD LOCK SUPER "1303" or equivalent.
99000-32030

Apply THREAD LOCK SUPER "1322" or equivalent.
99000-32110

Apply THREAD LOCK "1342" or equivalent.
99000-32050

Apply THREAD LOCK SUPER "1360" or equivalent.
99000-32130

Use engine coolant or equivalent.
99000-99032-11X

Use fork oil or equivalent.
99000-99044-10G

Apply or use brake fluid.

Use special tool.

Do not reuse.

Note on reassembly.
Abbreviations
A:
ABDC: After Bottom Dead Center
AC: Alternating Current
ACL: Air Cleaner, Air Cleaner Box
API: American Petroleum Institute
ATDC: After Top Dead Center
ATM Pressure: Atmospheric Pressure
A/F: Air Fuel Mixture
B:
BBDC: Before Bottom Dead Center
BTDC: Before Top Dead Center
B+: Battery Positive Voltage
C:
CKP Sensor: Crankshaft Position Sensor (CKPS)
CKT: Circuit
CO: Carbon Monoxide
CPU: Central Processing Unit
D:
DC: Direct Current
DMC: Dealer Mode Coupler
DOHC: Double Over Head Camshaft
DRL: Daytime Running Light
E:
ECM: Engine Control Module
Engine Control Unit (ECU)
(FI Control Unit)
ECT Sensor: Engine Coolant Temperature Sensor (ECTS)
Water Temp. Sensor (WTS) EVAP: Evaporative Emission
EVAP Canister: Evaporative EmissionCanister (Canister)
F:
FI: Fuel Injection, Fuel Injector
FP: Fuel Pump
FPR: Fuel Pressure Regulator
FP Relay: Fuel Pump Relay
FTPC Valve: Fuel Tank Pressure Control Valve
G:
GEN: Generator
GND: Ground
GP Switch: Gear Position Switch
H:
HC: Hydrocarbons
HO2S: Heated Oxygen Sensor
I:
IAP Sensor: Intake Air Pressure Sensor (IAPS)
IAT Sensor: Intake Air Temperature Sensor (IATS)
IG: Ignition
ISC Valve: Idle Speed Control Valve (ISCV)
L:
LCD: Liquid Crystal Display
LED: Light Emitting Diode (Malfunction Indicator Light)
LH: Left Hand
M:
MAL-Code: Malfunction Code (Diagnostic Code)
Max: Maximum
MIL: Malfunction Indicator Light (LED)
Min: Minimum
N:
NOx: Nitrogen Oxides
P:
PARK: Parking Brake (Brake-lock)
PCV: Positive Crankcase Ventilation (Crankcase Breather)
R:
RH: Right Hand
ROM: Read Only Memory
S:
SAE: Society of Automotive Engineers
STP Sensor: Secondary Throttle Position Sensor
STVA: Secondary Throttle Valve Actuator
T:
TO Sensor: Tip-Over Sensor (TOS)
TP Sensor: Throttle Position Sensor (TPS)
Vehicle Side View
NOTE Difference between photographs and actual motorcycles depends on the markets.
Right Side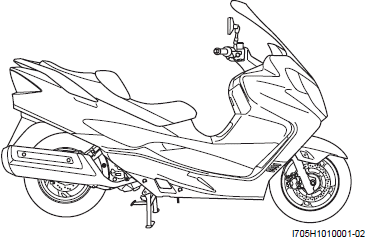 Left Side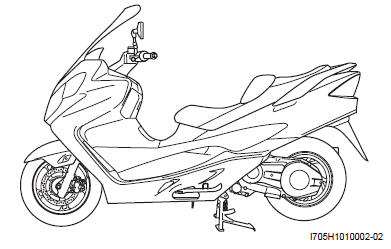 Vehicle Identification Number
The frame serial number or V.I.N. (Vehicle Identification Number) (1) is stamped on the right side of the frame tube. The engine serial number (2) is located on the left side of the crankcase. These numbers are required especially for registering the machine and ordering spare parts.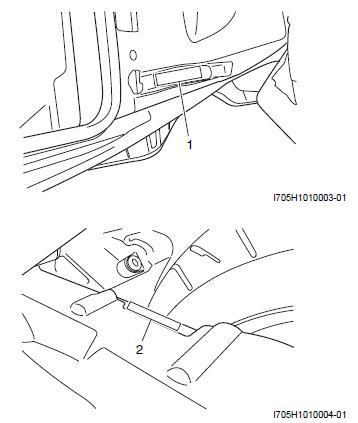 See also:
Fuel (For USA and Canada) Use only unleaded gasoline of at least 87 pump octane (R/2 + M/2) or 91 octane or higher rated by the research method. Gasoline containing MTBE (Methyl Tertiary Butyl Ether), less than 10% ethanol, or less than 5% methanol with appropriate cosolvents and corrosion inhibitor is permissible.