In order to carry out any operation on the radiator unit, flow out the coolant in the coolant delivery pipe in the pump, indicated in the photograph.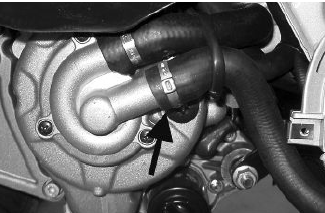 Remove the shield back plate;
Remove the coolant feed and return hoses from the right radiator;
Unscrew the 4 screws fixing the radiator to the body;
Detach the radiator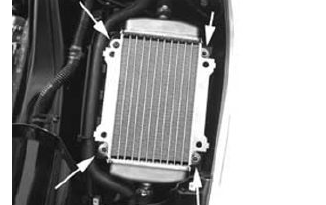 Detach the pipe from the plastic duct by removing the plastic clip shown in the photograph. Then remove the duct.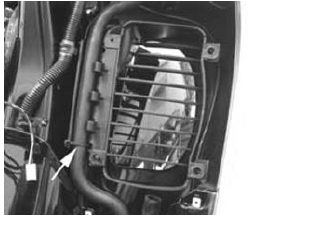 The same procedure also applies to the left radiator for which it is necessary to remove the electric fan first by undoing the three screws indicated in the photograph and afterwards disconnect the connector.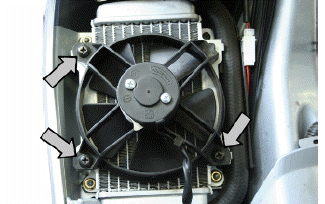 To refit, perform the removal operations but in reverse order being careful when positioning the news clips for the fluid hoses and when filling the cooling system.
Front central cover
Remove the "PIAGGIO" clip-on badge
Unscrew the screw indicated in the figure
Remove the grille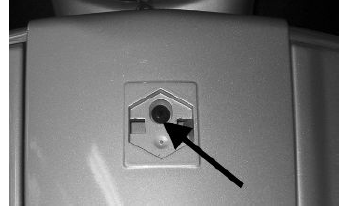 See also:
Remove the shield back plate Remove the battery compartment cover Remove the side fairings Remove the central screw located under the battery compartment cover as indicated in the figure Remove the passenger footrests undoing the two screws indicated in the figure Remove the right and left screws fixing the footrest indicated in the figure Remove the right and left lower covers as shown in the figure Remove the screws under the non-slip rubber mat of the footrest as indicated in the photograph
Carry out the listed tests before delivering the vehicle. Warning - Handle fuel with care. Aesthetic inspection Appearance check: Paintwork Fitting of plastics Scratches Dirt