Front brake pads
Removal
Remove the front wheel
Pre-loosen the two fixing pins of the brake pads
Remove the brake calliper
Remove permanently the two pad fixing screws
Check that there are no flaws or warping. If there is, replace it.
Check the thickness of the friction material is more than 1.5 mm. If it is not, replace it
The replacement must be made with greater residual thickness if the pad has not worn evenly. A 0.5 mm thickness difference in the residual friction material is permitted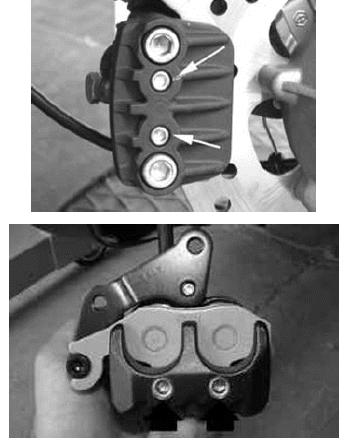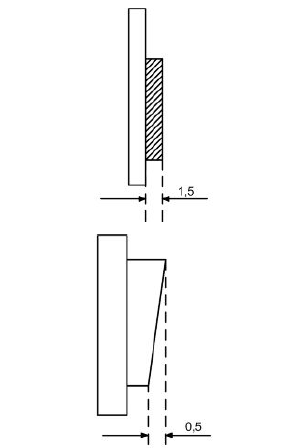 Refitting
To fit, proceed as follows:
Insert the two pads in the callipers.
Screw the two pad lock pins to the correct torque, and apply the recommended product.
Fit the calliper on its support, tightening the two screws to the prescribed torque.
N.B.
IF IT IS NOT POSSIBLE TO CORRECTLY POSITION THE CALLIPER ON THE DISC DURING FITTING, GENTLY EXPAND THE PADS.
Recommended products
Loctite 243 Medium-strength threadlock
Medium Loctite 243 threadlock
Locking torques (N*m)
Screw tightening calliper to support 24 to 27 Pad fastening pin 19.6 to 24.5
Rear brake pads
Removal
Remove the rear brake calliper.
Remove the snap ring, slide off the pad retention pin and the clip.
Remove the brake pads and check there are no faults or warping. Otherwise, replace them.
Check the thickness of the friction material is more than 1.5 mm. If it is not, replace it
The replacement must be made with greater residual thickness if the pad has not worn evenly. A 0.5 mm thickness difference in the residual friction material is permitted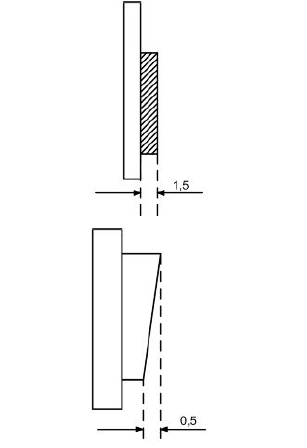 Refitting
Insert the brake pads
Insert the fixing pin being careful to position the clip with the ends towards the bleed screw as in the photo.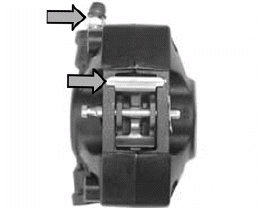 Insert the lock on the bolt and then the protection cover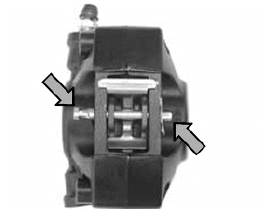 N.B.
FAILURE TO RESPECT THE PAD POSITIONING REQUIREMENTS WITH RESPECT TO THE DIRECTION OF ROTATION COULD COMPROMISE PROPER BRAKE FUNCTIONING AND NOISELESSNESS.
See also:
Rear brake disc Removal Remove the rear brake calliper. Remove the brake disc and the hub from the wheel axle To remove the brake disc from the hub, hold the unit firmly with a vice and operate on the 5 fixing screws indicated in the photograph
Rear - combined Remove the rubber cap from the bleed screw. Insert a rubber pipe in the bleed screw to permit the brake fluid to be recovered. With the left-had brake lever, load the system and bring it up to the required pressure. Keeping the left-hand brake lever pulled, loosen the bleed screw to permit the air in the system to escape. Then tighten the bleed screw Repeat the operation until only brake fluid comes out of the rubber pipe. Remove the fluid recovery pipe and refit the rubber cap over the bleed screw. Top up the brake fluid to the right level in the reservoir.