Support the driven pulley spring compressor specific tool with the control screw in vertical axis.
Arrange the tool with the medium length pins screwed in position "C" on the inside.
Introduce the adapter ring No. 11 with the chamfering facing upwards.
Insert the clutch on the adapter ring.
Lubricate the end of the spring that abuts against the torque server closing collar.
Insert the spring with its plastic holder in contact with the clutch.
Insert the drive belt into the pulley unit according to their direction of rotation.
Insert the pulley unit with the belt into the tool.
Slightly preload the spring.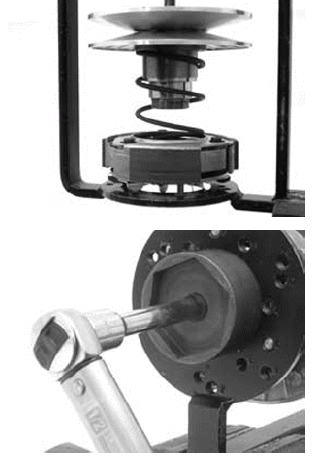 Make sure that the clutch is perfectly inserted into the adapter ring before proceeding to tighten the clutch nut.
Place the tool in the clamp with the control screw on the horizontal axis.
Fully preload the spring.
Apply the clutch fixing nut and tighten it to the prescribed torque using the special 46x55 wrench.
Loosen the tool clamp and insert the belt according to its direction of rotation.
Lock the driven pulley again using the specific tool.
Preload the clutch return spring with a traction/ rotation combined action and place the belt in the smaller diameter rolling position.
Remove the driven pulley /belt unit from the tool.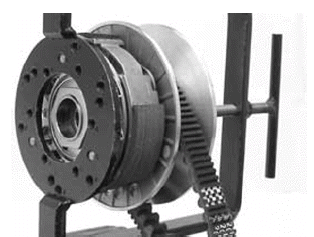 N.B.
DURING THE SPRING PRELOADING PHASE, BE CAREFUL NOT TO DAMAGE THE PLASTIC SPRING STOP AND THE BUSHING THREADING.
N.B.
FOR DESIGN REASONS, THE NUT IS SLIGHTLY ASYMMETRIC; THE FLATTEST SURFACE SHOULD BE MOUNTED IN CONTACT WITH THE CLUTCH.
Specific tooling
020444Y Tool for fitting/ removing the driven pulley clutch
020444Y011 adapter ring
020444Y009 wrench 46 x 55
Locking torques (N*m)
Clutch unit nut on driven pulley 45 ÷ 50
Refitting the driven pulley
Fit the clutch housing on the driven pulley paying attention to the position of the washer indicated.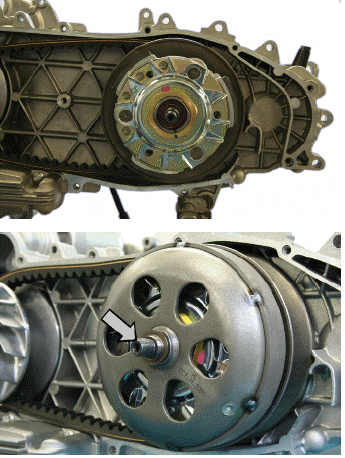 See also:
Check there are no signs of wear and/or noisiness; Replace with a new one if there are. Remove the retainer ring using two flat blade screwdrivers. Support the pulley bushing adequately from the threaded side using a wooden surface. Using a hammer and pin, knock the ball bearing out as shown in the figure. Support the pulley properly using the bell as shown in the figure.
Make sure the drive belt is not damaged and does not show abnormal wear. Replace as indicated in the scheduled maintenance table. Removing the driving pulley Turn the crankshaft until the ropes of the pulley are on a horizontal axis Insert the adaptor sleeve of the appropriate tool in the hole shown in the picture Insert the tool in the hollows and apply the retention ring Bring in the ring's clamping screws while keeping the tool to support the pulley Remove the fixing nut and the washer Remove the stationary drive pulley half.