Grease the wheel axle, then install it from the tone wheel side and install the tone wheel properly.
Tighten the wheel axle nut to the prescribed torque.
N.B.
TAKE CARE NOT TO DAMAGE THE ODOMETER DRIVE.
FOR THE SAKE OF SAFETY, OFFSET THE INTERNAL STOP FROM THE STOP OF THE TONE WHEEL BY 90º.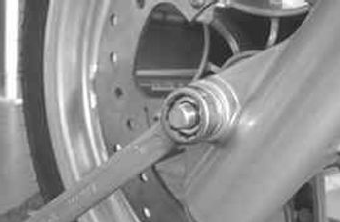 Tighten the two safety screw on the leg to the prescribed torque.
Locking torques (N*m)
Front wheel axle nut 45 - 50 Safety screw on fork leg 6 ÷ 7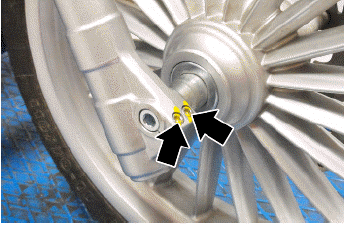 Handlebar
Removal
Remove the rear handlebar cover.
Remove the pin mounting the handlebar to the steering tube.
Remove the handlebar and place it on the rear cover of the legshield.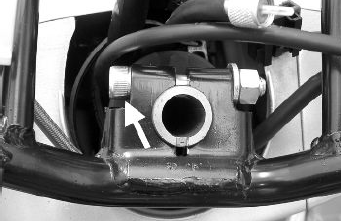 Refitting
Install the handlebar on the steering tube, paying attention to the centring, aligning the recess on the handlebar with that on the steering tube as shown in the figure.
Tighten the handlebar fixing screw on the steering tube to the prescribed torque.
Locking torques (N*m)
Handlebar fixing screw (*) 45 to 50
(*) Lubricate the nuts with engine oil before installation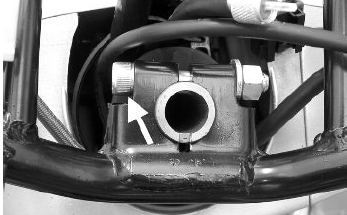 See also:
Remove the front brake calliper. Loosen the wheel axle lock-nut. Loosen the two wheel axle safety screws on the fork leg, on the brake calliper side. Pull out the wheel axle.
Removal Overhaul Support the fork in a vice. Loosen the two tightening screws of the stem supporting clamp. Unscrew the stem closing cap and slide off the complete fork leg from the corresponding support.