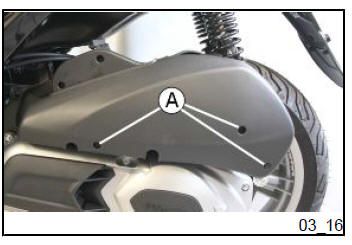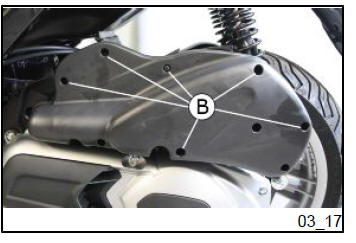 Proceed as follows:
Loosen the 3 screws "A" and remove the filter housing cover.
Loosen the 6 remaining screws "B" and remove the air filter cover.
Air filter cleaning
1. Wash the sponge with water and neutral soap.
2. Dry it with a clean cloth and small blasts of compressed air.
3. Impregnate the sponge with a mixture of 50% petrol and 50% specified oil.
4. Gently squeeze the filter element, let it drip and then refit it.
CAUTION

IF THE VEHICLE IS USED ON DUSTY ROADS IT IS NECESSARY TO CARRY OUT MAINTENANCE CHECKS OF THE AIR FILTER MORE OFTEN TO AVOID DAMAGING THE ENGINE.
Recommended products
AGIP FILTER OIL
Oil for air filter sponge
Mineral oil with specific additives for increased adhesiveness
Cooling fluid level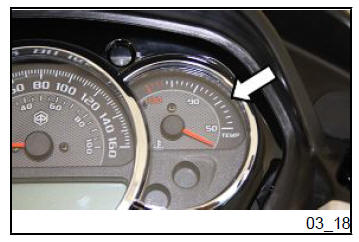 Engine cooling is carried out by a forced-circulation coolant system. The cooling circuit holds coolant consisting of a mixture of 50% de-ionised water and 50% glycol ethylene- based antifreeze solution with corrosion inhibitors. Recommended coolant: supplied with the vehicle, already mixed and ready for use. For proper engine functioning, the coolant temperature must be between the 4th and 7th lit segment, as indicated by the instrument "D" on the digital instrument panel. When the 9th segment lights up, the icon and all the segments start flashing; stop the engine, let it cool down and check the fluid level; if the level is OK, contact an Authorised Service Centre.
Check coolant when the engine is cold as indicated in the scheduled maintenance table.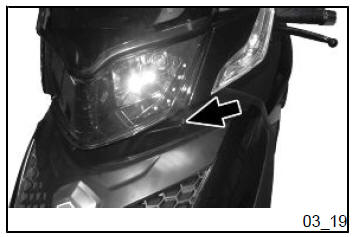 1. Rest the vehicle upright on the stand and remove the screw of the expansion tank cap shown in the photograph.
2. Remove the expansion tank cover "A" by turning it anticlockwise.
3. Look inside the expansion tank and check that the reference tongue "C" is covered.
4. If the coolant level is near the minimum mark, top up when the engine is cold.
If it is necessary to top-up the coolant frequently, or if the expansion tank is completely dry, you should look for the cause in the cooling system. It is therefore essential to have the cooling system checked at an Authorised Service Centre. Replace coolant as indicated in the scheduled maintenance table. Take your vehicle to an Authorised Service Centre for this operation.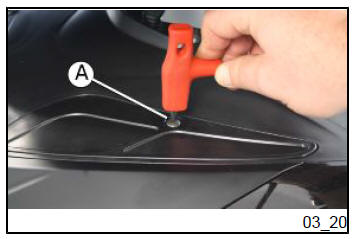 N.B.
SHOULD THE 9th SEGMENT OF THE COOLANT TEMPERATURE INDICATOR COME ON DURING A NON-DEMANDING RIDE, SHUT OFF THE ENGINE AND LET IT COOL DOWN. THEN CHECK THE COOLANT LEVEL; IF THE LEVEL IS OK, CONTACT AN AUTHORISED SERVICE CENTRE.
WARNING

TO AVOID THE RISK OF SCALDING, DO NOT UNSCREW THE EXPANSION TANK COVER WHILE THE ENGINE IS STILL HOT.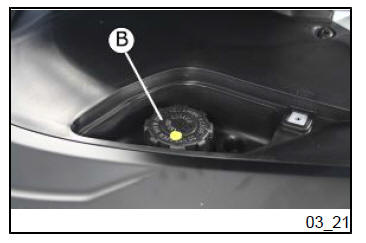 WARNING

TO PREVENT AVOID HARMFUL FLUID LEAKAGE WHILE RIDING, ENSURE THAT THE LEVEL NEVER EXCEEDS THE MAXIMUM VALUE.
TO ENSURE CORRECT ENGINE OPERATION, KEEP THE RADIATOR GRILLE CLEAN.
Recommended products
AGIP PERMANENT SPECIAL
coolant
Monoethylene glycol-based antifreeze fluid, CUNA NC 956-16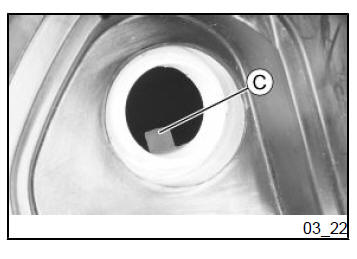 See also:
Check that there is oil in the rear hub. (oil content ~ 250 cc). To check the rear hub oil level, proceed as follows:
The front and rear brake fluid reservoirs are both positioned on the handlebar. Proceed as follows: