Undo the three screws with an anti-tampering device.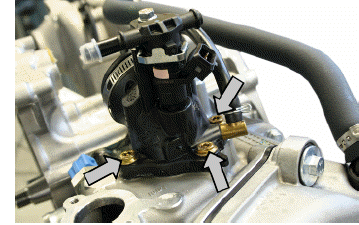 Removing the rocker-arms cover
Remove the five screws shown in the figure.
Remove the entire head cover.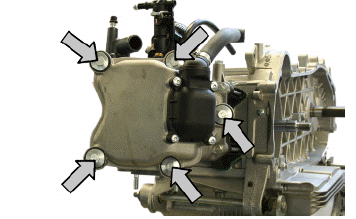 Removing the timing system drive
Remove the oil pump control gear and the pinion separation washer as described in the "Engine/ Lubrication/Oil pump" section.
Undo the central screw and collect the washer.

Undo the two fixing screws to the cylinder and remove the tensioner together with the gasket.
Undo the two screws indicated.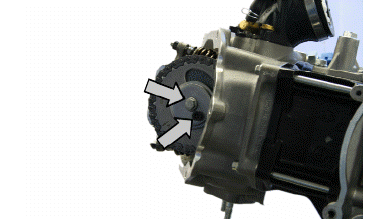 Detach the timing chain and remove the camshaft control pulley and the corresponding washer.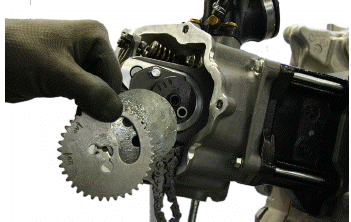 Remove the screws indicated in the figure, the spacer bar and the tensioner slider.
Remove the control sprocket wheel and the timing chain.
As regards the chain guide slider, it may only be removed after the head has been removed.
N.B.
IT IS ADVISABLE TO MARK THE CHAIN IN ORDER TO ENSURE THAT THE INITIAL DIRECTION OF ROTATION IS MAINTAINED.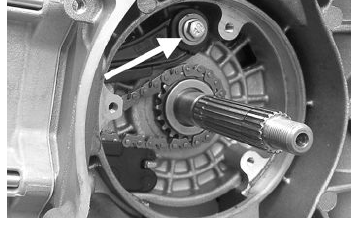 Removing the cam shaft
Undo the two indicated fixing screws to the cylinder and remove the fixing plate.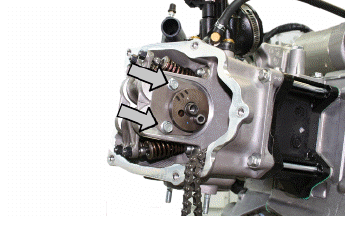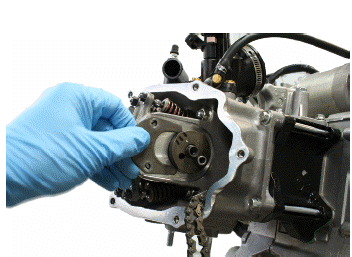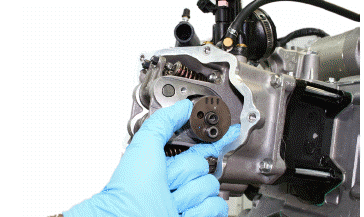 Acting on flywheel-side holes, push and slide off the rocking lever pins.
N.B.
IF NEEDED, THE HEAD MAY BE REMOVED WITH THE CAMSHAFT, ROCKER PINS AND FIXING BRACKET. THE HEAD CAN ALSO BE REMOVED WITHOUT REMOVING THE CHAIN AND THE CRANKSHAFT CHAIN TENSIONER.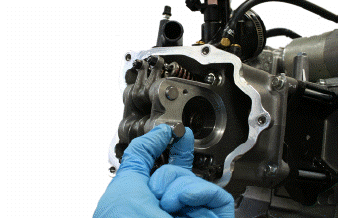 See also:
Undo the two screws "1" fixing the head to the transmission-side crankcase half. Unscrew the four nuts "2" by loosening them in two or three stages and in a crossed sequence. Remove the head.