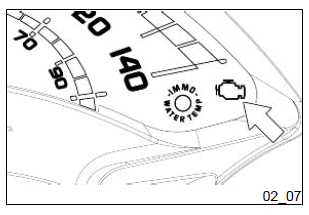 The vehicle is equipped with a system connected to the side stand which inhibits engine starting when the side stand is extended. The engine cannot be started if the side stand is extended, and stops if the side stand is extended while the engine itself is running.
To start the engine, place the vehicle on the centre stand, ensuring the rear wheel is not touching the ground.
Turn the ignition switch to "ON" the engine management indication light will switch on.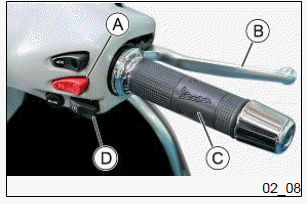 Ensure that the engine stop switch A is turned to RUN and that the side stand is raised.
Pull the front brake lever B or the rear brake lever while simultaneously leaving the throttle grip C in the fully closed position.
Press the starter button "D"; the engine management warning lamp will switch off.
WARNING
FOR SAFETY REASONS, ENGINE STARTING IS INHIBITED IF THE SIDE STAND IS EXTENDED.
WARNING
THE AUTOMATIC TRANSMISSION MAKES THE REAR WHEEL TURN EVEN WHEN THE THROTTLE IS SLIGHTLY TWISTED. RELEASE THE BRAKE CAREFULLY AFTER STARTING, AND THEN ACCELERATE GRADUALLY.
CAUTION
DO NOT START-UP THE ENGINE IN CLOSED AREAS BECAUSE EXHAUST GASES ARE TOXIC.
Precautions
CAUTION
NEVER STRESS THE ENGINE AT LOW TEMPERATURES IN ORDER TO AVOID POSSIBLE DAMAGE. BE CAREFUL NEVER TO EXCEED THE MAXIMUM SPEED WHILE RUNNING DOWNHILL, IN ORDER TO AVOID DAMAGING THE ENGINE.
IN ANY CASE, IN ORDER TO PRESERVE THE ENGINE FROM PROLONGED OVER-REVVING, THE REVOLUTION LIMITER WILL BE ACTIVATED IF THE ENGINE SPEED EXCEEDS THE ESTABLISHED THRESHOLD.
WARNING
AFTER A LONG DISTANCE COVERED AT THE MAXIMUM SPEED, DO NOT STOP THE ENGINE IMMEDIATELY, BUT LET IT RUN AT IDLE FOR A FEW SECONDS.
Difficult start up
Strictly observe the procedure described in section "Engine starter".
WARNING
THE THROTTLE GRIP MUST REMAIN IN THE MINIMUM POSITION BECAUSE ANY OTHER POSITION INHIBITS THE VEHICLE STARTER.
CAUTION
IF NECESSARY, CONTACT AN AUTHORISED SERVICE CENTRE.
Stopping the engine
Close the throttle grip completely then turn the ignition switch A to OFF (key released and removable), or turn the engine stop switch B to 0.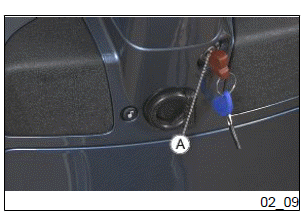 CAUTION
DUE TO THE HIGH TEMPERATURES THE CATALYTIC CONVERTER CAN REACH, ALWAYS TAKE CARE, WHEN PARKING THE VEHICLE, THAT THE SILENCER DOES NOT COME INTO CONTACT WITH FLAMMABLE MATERIALS, TO AVOID SERIOUS BURNS.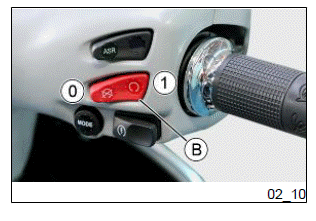 CAUTION
DO NOT SHUT OFF THE ENGINE WHILE THE VEHICLE IS MOVING. UNBURNED FUEL COULD ENTER THE CATALYTIC CONVERTER AND BURN, CAUSING THE CONVERTER TO OVERHEAT AND POSSIBLY DESTROYING IT.
See also:
Checks Before using the vehicle, check: 1. That there is enough fuel in the fuel tank.
CAUTION TAMPERING WITH THE CATALYTIC SILENCER MAY CAUSE SEVERE DAMAGE TO THE ENGINE.