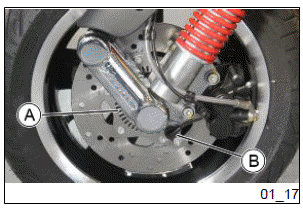 The vehicle is equipped with a locking ABS system on the wheels.
Tone wheel
Speed sensor
ABS: It is a hydraulic - electronic device that limits the pressure within the braking circuit when a sensor, located on the wheel, detects its tendency to lock. This system prevents the wheels from locking to avoid the risk of falling.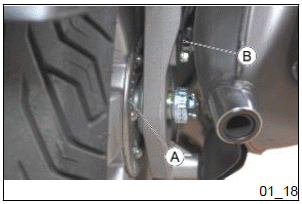 In case of failure of the ABS system, immediately reported to the rider with ABS warning light on the instrument cluster, the vehicle retains the characteristics of a conventional braking system. In case of ABS warning light, reduce speed and go to an Authorised Service Centre for the appropriate checks. The safety provided by the ABS does not, in any case, justify risky manoeuvres. The stopping distance may be greater, compared to a conventional vehicle equipped with traditional braking in the following conditions:
Riding on rough roads, with gravel or snow
Riding on roads with holes or bumps
It is therefore recommended to reduce speed in these conditions.
AT VERY LOW SPEEDS (LESS THAN 5 KM/H) THE ABS SYSTEM IS DISABLED.
IT IS RECOMMENDED TO PAY ATTENTION THEREFORE IN CASES OF BRAKING IN LOW GRIP CONDITIONS AT LOW SPEED (FOR EXAMPLE BRAKING ON GARAGE FLOOR TILES AFTER HAVING RIDDEN ON WET ROADS OR SIMILAR SITUATIONS)
CAUTION
IN THE EVENT OF MALFUNCTION OF THE BATTERY, THE ABS - ASR SYSTEM TURNS OFF.
When switching the key to "ON", the ABS control unit performs a control of the system, during which the ABS warning light flashes. This phase ends when exceeding 5 Km/h of speed with the switching off of the warning light.
In case of error of the system, the ABS warning light remains fixed. The braking system keeps the characteristics of a traditional system.
In this case, reduce speed and go to an Authorised Service Centre for the appropriate checks.
WARNING
IF THE WARNING LIGHT IS FLASHING, THE ABS SYSTEM IS NOT ACTIVE.
See also:
ASR SYSTEM The ASR system is a driving aid that assists the driver in acceleration manoeuvres, particularly on low-grip surfaces or under conditions that can cause sudden back-wheel slippage. The ASR in these situations automatically intervenes by reducing engine output within the limit imposed by the grip conditions, contributing significantly to the maintenance of stability the vehicle.