Check tyre pressure and wear periodically as indicated in the scheduled maintenance table. Tyres feature wear indicators; replace tyres as soon as these indicators become visible on the tyre tread. Also check that the tyres do not show signs of splitting at the sides or irregular tread wear; if this occurs, go to an authorised workshop or at least to a workshop equipped to replace tyres.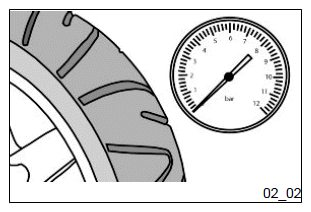 CAUTION
TYRE PRESSURE SHOULD BE CHECKED WHEN TYRES ARE COLD.INCORRECT TYRE PRESSURE CAUSES ABNORMAL TYRE WEAR AND MAKES RIDING DANGEROUS.
TYRES MUST BE REPLACED WHEN THE TREAD REACHES THE WEAR LIMITS SET FORTH BY LAW.
TYRE INFLATION PRESSURE

TYRES

Shock absorbers adjustment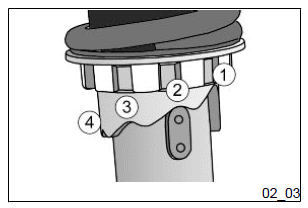 The preloading of the springs can be adjusted to 4 positions acting on the ring nut located in the lower part of the shock absorbers with the specific spanner supplied.
Position 1: minimum preload: rider only
Position 2 medium preloading: rider only
Position 3 medium preloading: rider and passenger
Position 4: maximum preloading: rider, passenger, and luggage.
In order to carry out this operation you will need to use the specific spanner in the kit.
Spring preloading increases by turning the ring nut towards "A", but decreases if the ring nut is turned towards "B".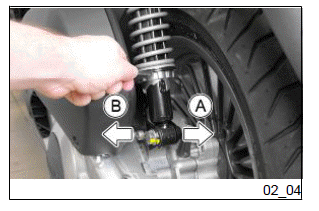 CAUTION
RIDING THE VEHICLE WITH THE SPRING PRELOADING NOT CORRECTLY SET FOR THE RIDER AND POSSIBLE PASSENGER, COULD REDUCE THE COMFORT OF THE RIDE AND THE PRECISION OF THE STEERING.
WARNING
WE RECOMMEND WEARING GLOVES WHILE CARRYING OUT THIS OPERATION IN ORDER TO AVOID INJURIES.
WARNING
IT IS ABSOLUTELY FORBIDDEN TO ADJUST THE PRELOAD DIFFERENTLY ON THE TWO SHOCK ABSORBERS
Running in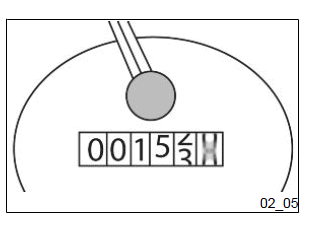 DURING THE FIRST 1000 KM DO NOT RIDE THE VEHICLE OVER 80% OF ITS MAX. SPEED. AVOID OPENING THE THROTTLE GRIP COMPLETELY OR KEEPING A CONSTANT SPEED ALONG LONG SECTIONS OF ROAD. AFTER THE FIRST 1000 KM INCREASE SPEED PROGRESSIVELY, IF POSSIBLE, UNTIL THE MAXIMUM PERFORMANCE IS OBTAINED.
CAUTION
IN ORDER TO AVOID DAMAGING THE VEHICLE, PLEASE COMPLY WITH THE RULES LISTED ABOVE.
See also:
Before using the vehicle, check: 1. That there is enough fuel in the fuel tank. 2. Front and rear brake fluid level. 3. That tyres are properly inflated. 4. The correct functioning of the tail lights, the headlight, and the turn indicators.
The vehicle is equipped with an ignition prevention system controlled by the side stand. The engine cannot be started if the side stand is lowered.