Transmission cover
To remove the transmission cover it is necessary to remove the plastic cover first, by inserting a screwdriver in the slotted holes. Using the clutch housing lock wrench shown in the figure, remove the driven pulley shaft locking nut and washer.
Specific tooling
020423Y Driven pulley lock wrench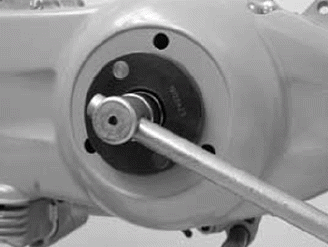 Remove the cap/dipstick from the engine oil filling hole.
Remove the ten screws.
Remove the transmission cover.
N.B.
WHEN YOU ARE REMOVING THE TRANSMISSION COVER YOU MUST BE CAREFUL NOT TO DROP THE CLUTCH HOUSING.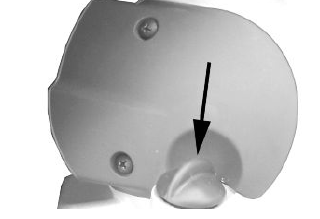 Air duct
Remove the transmission compartment air intake cover shown in the picture.
Remove the 5 screws, found on two different levels, as well as the small casing.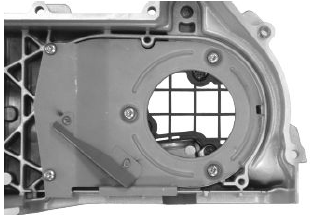 Removing the driven pulley shaft bearing
Remove the clip from the inside of the cover.
Remove the bearing from the crankcase by means of:
Specific tooling
020376Y Adaptor handle
020375Y 28 x 30 mm adaptor
020412Y 15-mm guide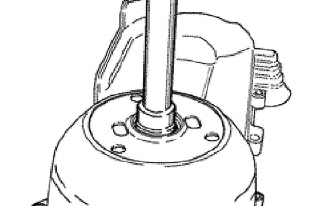 Refitting the driven pulley shaft bearing
Slightly heat the crankcase from the inside so as not to damage the painted surface.
Insert the bearing in its seat.
Refit the Seeger ring.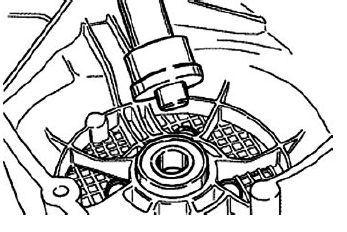 CAUTION
USE AN APPROPRIATE REST SURFACE TO AVOID DAMAGING THE COVER PAINT.
N.B.
ALWAYS REPLACE THE BEARING WITH A NEW ONE UPON REFITTING.
Specific tooling
020376Y Adaptor handle
020357Y 32 x 35-mm Adaptor
020412Y 15-mm guide
See also: