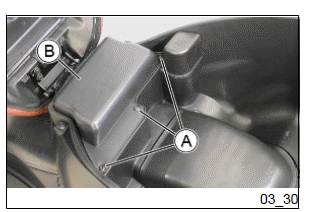 To access the battery, proceed as follows:
Position the vehicle on centre stand
Open the saddle, following the previously described procedure
Unscrew the three screws "A" and remove the cover "B"
The battery is the electrical device that requires the most frequent attention and the most thorough maintenance.
The main points of maintenance to be observed are as follows: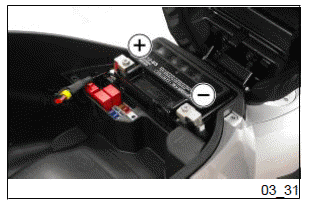 WARNING
DO NOT DISCONNECT THE BATTERY CABLES WITH THE ENGINE RUNNING, THIS CAN CAUSE IRREPARABLE DAMAGE TO THE VEHICLE'S ELECTRONIC CONTROL UNIT.
WARNING
USED BATTERIES ARE HARMFUL FOR THE ENVIRONMENT. COLLECTION AND DISPOSAL SHOULD BE CARRIED OUT IN COMPLIANCE WITH REGULATIONS IN FORCE.
Characteristic
Battery
SEALED 12V / 10Ah
Use of a new battery
Ensure that the terminals are connected correctly and check the voltage.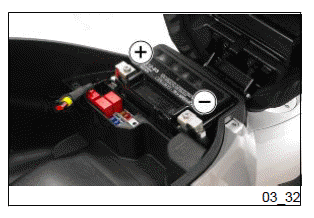 CAUTION
DO NOT REVERSE THE POLARITY: RISK OF SHORT CIRCUIT AND DAMAGE TO THE ELECTRICAL SYSTEM.
Long periods of inactivity
Battery performance will decrease if the vehicle is not used for a long time. This is the result of the natural phenomenon of battery discharging, and may be due to residual absorption by vehicle components with constant power consumption. Poor battery performance may also be due to environmental conditions and the cleanness of the poles. In order to avoid difficult starts and/or irreversible damage to the battery, follow any of these steps:
At least once a month start the engine and run it slightly above idle speed for 10-15 minutes. This keeps all the engine components, as well as the battery, in good working order.
Take your vehicle to a garage (as indicated in the "Vehicle not used for extended periods" section) to have the battery removed. Have the battery cleaned, charged fully and stored in a dry, ventilated place. Recharge at least once every two months.
CAUTION
THE BATTERY MUST BE RECHARGED WITH A CURRENT LOAD EQUAL TO 1/10 OF THE BATTERY RATED CAPACITY AND FOR A PERIOD NOT LONGER THAN 8 HOURS. TAKE THE VEHICLE TO AN AUTHORISED PIAGGIO SERVICE CENTRE FOR THIS OPERATION. WHEN REFITTING THE BATTERY MAKE SURE THE LEADS ARE CORRECTLY CONNECTED TO THE TERMINALS.
See also:
Engine cooling is carried out by a forced-circulation coolant system. The coolant consists of a mixture 50% de-ionised water and 50% glycol ethylene-based antifreeze solution with corrosion inhibitors. The coolant supplied with the scooter is already mixed and ready for use.
The electrical system is equipped with 6 protection fuses located below the saddle. Open the saddle as described above. Unscrew the three screws "A" and remove the cover "B" The chart shows the position and specifications of the fuses in the vehicle.