The electrical system is equipped with 6 protection fuses located below the saddle.
Open the saddle as described above.
Unscrew the three screws "A" and remove the cover "B" The chart shows the position and specifications of the fuses in the vehicle.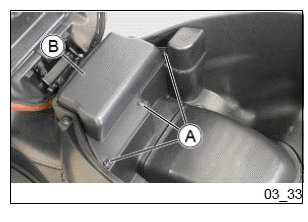 CAUTION
BEFORE REPLACING A BLOWN FUSE, FIND AND SOLVE THE FAILURE THAT CAUSED IT TO BLOW. NEVER TRY TO REPLACE THE FUSE WITH ANY OTHER MATERIAL (E.G., A PIECE OF ELECTRIC WIRE).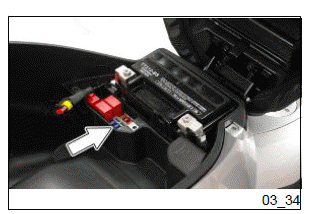 CAUTION
MODIFICATIONS OR REPAIRS TO THE ELECTRICAL SYSTEM, PERFORMED INCORRECTLY OR WITHOUT STRICT ATTENTION TO THE TECHNICAL SPECIFICATIONS OF THE SYSTEM CAN CAUSE MALFUNCTIONING AND RISK OF FIRE.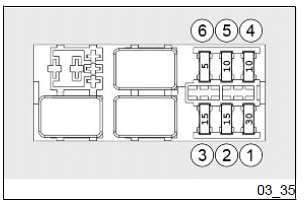 FUSES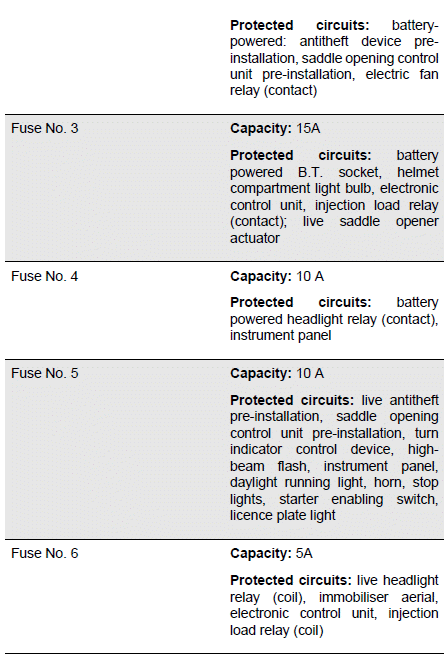 Lamps
BULBS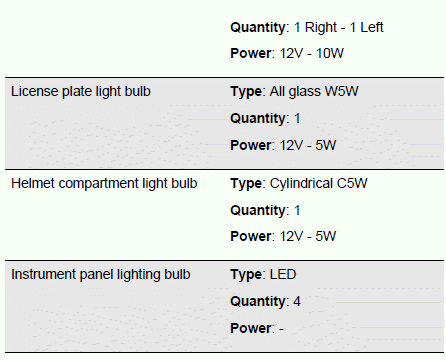 See also:
To access the battery, proceed as follows: Position the vehicle on centre stand Open the saddle, following the previously described procedure Unscrew the three screws "A" and remove the cover "B"
To remove the front headlight assembly, proceed as follows: Unscrew the two screws "A" and remove the pressure covering Unscrew the two upper screws "E" fastening the headlight assembly Working on both sides of the vehicle, unscrew the lower fixing screws "C" and remove the headlight. Remove the rubber protection.