Use a low pressure jet of water to soften the caked dirt and mud deposited on the painted surfaces. Once softened, sponge off mud and dirt using a car body sponge soaked in a car body shampoo and water solution (2-4% of car shampoo in water).
Then rinse with abundant water, and dry with a chamois cloth.
WARNING
IN ORDER TO AVOID RISE OF OXIDATION, WASH THE VEHICLE EVERY TIME IT IS USED IN AREAS OR SPECIAL CONDITIONS OF:
ENVIRONMENTAL / SEASONAL CONDITIONS: USE OF SALT, ANTI-ICE CHEMICALS ON ROADS DURING WINTER.
AIR POLLUTION: CITIES AND/OR INDUSTRIAL AREAS.
SALINITY AND HUMIDITY: SEASHORE AREAS, HOT AND HUMID CLIMATE.
WARNING
PREVENT DEPOSITS FROM REMAINING ON THE BODYWORK, INDUSTRIAL AND POLLUTANT RESIDUAL DUST, TAR SPOTS, DEAD INSECTS, BIRD DROPPINGS, ETC.
AVOID PARKING THE VEHICLE UNDER TREES. IN SOME SEASONS, IN FACT, RESIDUES, RESINS, FRUITS OR LEAVES MAY FALL FROM THE TREES, CONTAINING CHEMICALS THAT ARE HARMFUL TO THE PAINTWORK.
CAUTION
DETERGENTS CAN POLLUTE WATER. THE VEHICLE MUST BE WASHED AT A WASH STATION EQUIPPED WITH A SPECIAL WATER PURIFICATION SYSTEM.
CAUTION
DO NOT USE A HIGH-PRESSURE WATER JET MACHINE TO CLEAN THE ENGINE AND/OR VEHICLE; HOWEVER, IF NO OTHER MEANS ARE AVAILABLE, IT IS THEN NECESSARY TO:
ONLY USE A FAN-LIKE SPRAY JET.
DO NOT PLACE THE NOZZLE CLOSER THAN 60 CM.
DO NOT USE WATER AT TEMPERATURES OVER 40ºC.
DO NOT USE HIGH-PRESSURE WATER JETS.
DO NOT STEAM WASH.
DO NOT AIM THE JET AT: THE ENGINE, THE WIRING, THE COOLING SLITS ON THE TRANSMISSION OR SCROLL COVERS.
CAUTION
NEVER WASH THE SCOOTER IN DIRECT SUNLIGHT, ESPECIALLY IN SUMMER WHEN THE BODYWORK IS STILL HOT AS THE SHAMPOO COULD DAMAGE THE PAINTWORK IF IT DRIES BEFORE BEING RINSED OFF. NEVER USE CLOTHS SOAKED IN ALCOHOL, PETROL, DIESEL OIL OR KEROSENE FOR CLEANING THE PAINTED OR PLASTIC SURFACES, IN ORDER NOT TO DAMAGE THE LUSTRE FINISH OR ALTER THEIR MECHANICAL PROPERTIES. USING SILICONE-BASED WAX CAN DAMAGE THE PAINTED SURFACES, DEPENDING ON THE VEHICLE COLOUR (SATIN COLOURS). FOR FURTHER INFORMATION ON THIS MATTER, CONTACT AN AUTHORISED SERVICE CENTRE.
WARNING
CLEAN YOUR SCOOTER FREQUENTLY SO AS TO AVOID POSSIBLE DIRT OR MUD DEPOSITS THAT COULD CAUSE MALFUNCTIONING IN THE THROTTLE GRIP TRANSMISSION AND/OR OTHER COMPONENTS.
CAUTION
DURING VEHICLE CLEANING, WITH WATER JET UNDER PRESSURE, KEEP THE SADDLE CLOSED, AVOIDING TO DIRECT THE JET IN THE HELMET COMPARTMENT.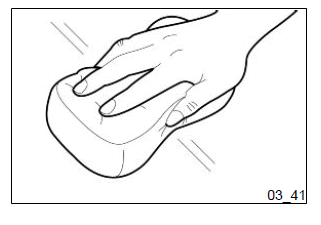 In order to maintain the satin-finish characteristics, please follow these precautions:
CAUTION
AVOID ROLLS FROM CAR WASH AND PRESSURE WASHERS;
DO NOT USE GRINDING PASTE FOR THE REMOVAL OF SCRATCHES;
AVOID THE USE OF DRY CLOTHS FOR THE REMOVAL OF DUST OR FOR MANUAL DRYING AFTER CLEANING;
DO NOT USE SILICON WAX OR POLISHING AGENTS;
DO NOT USE ALCOHOL FOR CLEANING;
IT IS STRONGLY RECOMMENDED TO MANUALLY WASH WITH SPONGE AND NEUTRAL SHAMPOO, AVOIDING EXCESSIVE RUBBING THAT COULD AFFECT THE HAZE DEGREE OF THE PAINTING;
DO NOT USE ABRASIVE CLEANERS;
FAILURE TO FOLLOW THE ABOVE GIVEN ADVICE, COMPROMISES THE HAZE OF THE PAINTING;
DO NOT APPLY ADHESIVE ELEMENTS TO THE BODYWORK;
DO NOT POLISH OTHER VEHICLES CLOSE TO THE ONE WITH SATIN-FINISHING;
AVOID CONTACT AND/OR RUBBING OF CLOTHING WITH BUTTONS, BUCKLES, RINGS AND/OR NECKLACES ON SATIN-FINISHED SURFACES SINCE THIS MAY INDUCE DAMAGE AND/OR CHANGES IN HAZE OF SATIN-FINISHED PAINT;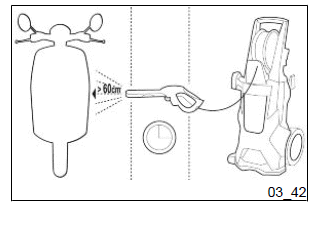 WARNING
WHEN CLEANING THE VEHICLE WITH A PRESSURE CLEANER, DO NOT DIRECT THE WATER JET ON ANY PART OF THE ENGINE OR BODYWORK FOR PROLONGED PERIODS.
Troubleshooting
STARTING FAILURE

IGNITION PROBLEMS


LACK OF COMPRESSION

HIGH FUEL CONSUMPTION AND BAD PERFORMANCE
INSUFFICIENT BRAKING

INEFFICIENT SUSPENSION

AUTOMATIC TRANSMISSION PROBLEMS

See also:
The brake disc and pad wear is automatically compensated, therefore it has no effect on the functioning of the front and rear brakes. For this reason it is not necessary to adjust the brakes. An excessively elastic brake lever stroke may indicate the presence of air in the braking circuit or a failure in the braking system. In this case, especially considering the fundamental role brakes play in your driving safety, it is necessary to take the vehicle to an Authorised Service Centre or Dealer.
Technical Data Data VEHICLE TECHNICAL DATA