Technical Data
Data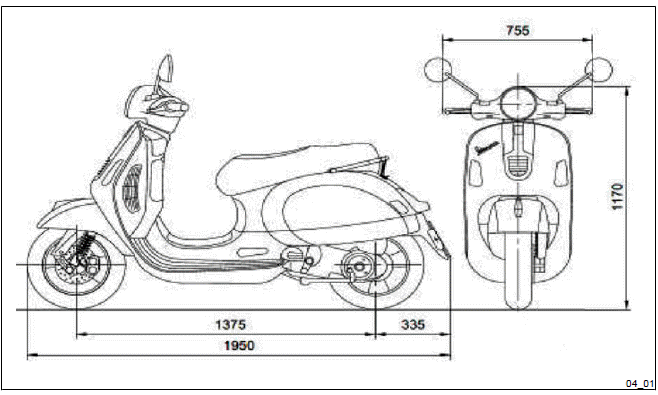 VEHICLE TECHNICAL DATA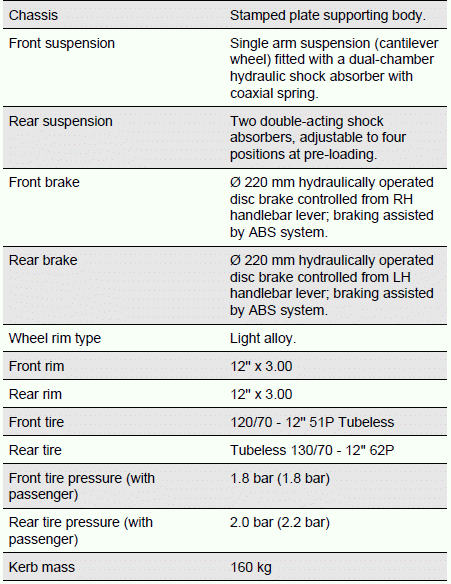 ENGINE SPECIFICATIONS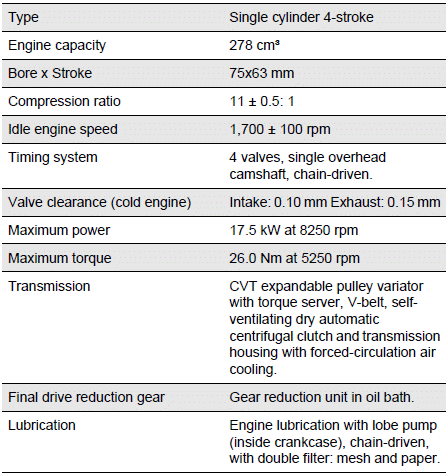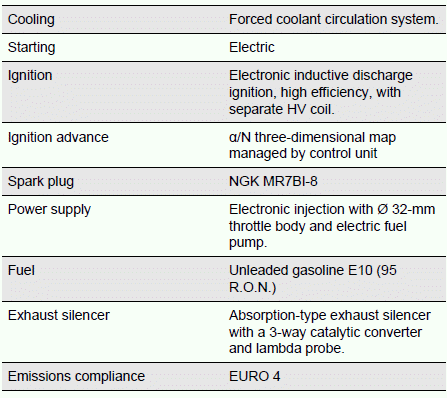 CAPACITY

UNIT OF MEASURE - CONVERSION - ENGLISH SYSTEM TO INTERNATIONAL SYSTEM (IS).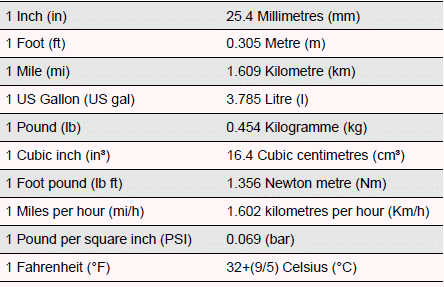 Spare Parts and Accessories
Warnings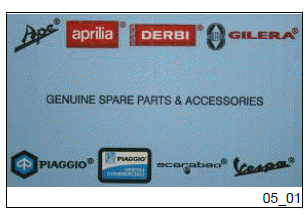 WARNING
TO PREVENT ACCIDENTS AND TO GUARANTEE PROPER STABILITY, PERFORMANCE AND SAFETY, RIDE THE VEHICLE VERY CAREFULLY WHEN IT IS FITTED WITH ACCESSORIES OR WITH UNUSUAL LOADS.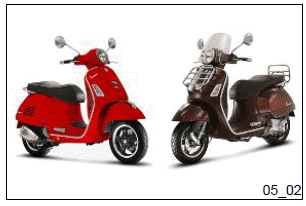 WARNING
IT IS ALSO RECOMMENDED THAT ORIGINAL PIAGGIO SPARE PARTS BE USED, AS THESE ARE THE ONLY ONES OFFERING YOU THE SAME QUALITY GUARANTEE AS THOSE INITIALLY FITTED ON THE VEHICLE. IT SHOULD BE REMEMBERED THAT USING NON-ORIGINAL SPARE PARTS CAUSES YOUR WARRANTY RIGHTS TO EXPIRE.
WARNING
PIAGGIO MARKETS ITS OWN LINE OF ACCESSORIES THAT ARE RECOGNISED AND GUARANTEED FOR USE. IT IS THEREFORE ESSENTIAL TO CONTACT AN AUTHORISED SERVICE CENTRE IN ORDER TO CHOOSE AND FIT ACCESSORIES CORRECTLY. THE USE OF NON-ORIGINAL ACCESSORIES MAY AFFECT THE STABILITY AND OPERATION OF YOUR VEHICLE AND REDUCE SAFETY LEVELS WITH POSSIBLE RISKS FOR THE RIDER.
WARNING
NEVER RIDE THE SCOOTER EQUIPPED WITH ACCESSORIES (TOP BOX AND/ OR WINDSCREEN) AT A SPEED HIGHER THAN 100 km/h.
THE VEHICLE CAN BE RIDDEN AT A HIGHER SPEED WITHOUT THE ACCESSORIES MENTIONED BEFORE WITHIN THE LIMITS ESTABLISHED BY LAW.
IF THERE ARE ANY NON-PIAGGIO ACCESSORIES INSTALLED, OR AN ABNORMAL LOAD, OR IF THE SCOOTER IS NOT IN A GENERALLY GOOD CONDITION, OR WHENEVER WEATHER CONDITIONS DEMAND IT, SPEED SHOULD BE FURTHER REDUCED.
WARNING
BE EXTREMELY CAREFUL WHEN INSTALLING AND REMOVING THE MECHANICAL ANTI-THEFT DEVICE ON THE VEHICLE (U-SHAPED PADLOCK, DISC BLOCK, ETC.).
MAINLY NEAR THE BRAKE PIPES, TRANSMISSIONS AND/OR ELECTRIC CABLES, AN INCORRECT INSTALLATION OR REMOVAL OF THE ANTI-THEFT DEVICE AS WELL AS LEAVING IT ON BEFORE STARTING THE VEHICLE CAN SERIOUSLY DAMAGE ITS COMPONENTS, COMPROMISE THE CORRECT FUNCTIONING OF THE VEHICLE AND USERS' SAFETY.
Scheduled Maintenance
Scheduled servicing table
Adequate maintenance is fundamental to ensure long-lasting, optimum operation and performance of your vehicle.
For this reason a series of checks and maintenance services has been prepared, available for purchase separately, listed together in the chart on the following page. It is a good idea to report small performance anomalies right away to an Authorised Service Centre, without waiting for the next scheduled service, so they can be repaired immediately.
It is necessary to have your vehicle serviced to the prescribed intervals of time, even if you have not reached the predicted mileage. Services must be performed punctually at the correct intervals to maintain the validity of the warranty. For any additional information concerning Warranty procedures and 'Scheduled Maintenance', please consult the 'Warranty Conditions'.
SCHEDULED MAINTENANCE TABLE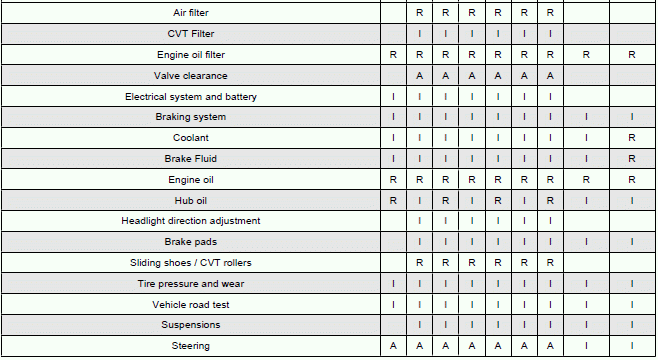 I: CHECK AND CLEAN, ADJUST, LUBRICATE OR REPLACE IF NECESSARY.
C: CLEAN,
R: REPLACE,
A: ADJUST,
L: LUBRICATE.
TABLE OF RECOMMENDED PRODUCTS

Special Fittings
Luggage rack
The "GTS Super" and "GTS SuperSport" versions are equipped with a grab handle "1", as shown in the photo.
The "GTS" and "GTS Touring" versions are equipped with rear luggage carriers "2", as shown in the photo.
During use of the vehicle without a load on the rear luggage carriers, it is recommended to position the retainer hook "A" as shown in photo.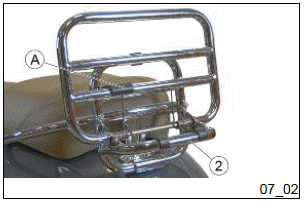 WARNING
Maximum admissible load: 6 kg
The "GTS Touring" version is equipped with front luggage carriers "3", as well as the rear luggage carriers "2" indicated above.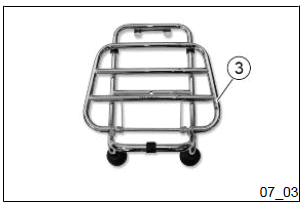 WARNING
Front luggage carrier maximum admissible load: 4 kg
See also:
Use a low pressure jet of water to soften the caked dirt and mud deposited on the painted surfaces. Once softened, sponge off mud and dirt using a car body sponge soaked in a car body shampoo and water solution (2-4% of car shampoo in water).