The high pressure circuit is highlighted in blue. The low pressure circuit is highlighted in green The lobe pump "1" sucks in oil from the sump through the mesh pre-filter "2", pushes it into the cartridge filter "3"; the main bushings and the big end are lubricated (with high pressure) through the suitable passages found in the crankcase halves "4" whereas the piston pin and connecting rod small end are lubricated via jet "5".
Afterwards, the oil, through a nozzle "6" whose function is to reduce the flow rate, reaches the timing system where it lubricates the camshaft and from there, the valves and rockers "7". The oil passes through the timing chain conduit and returns to the sump "8" by gravity
Oil pressure check
Remove the electrical minimum oil pressure switch connection and remove the switch.
Check that the oil pressure reading is between 0.5 and 1.2 atm with the engine idling at 1650 rpm and the oil at the required temperature (wait for at least one electric ventilation).
Check that the oil pressure is between 3.2 and 4.2 atm with the engine running at 6000 rpm and the oil at the required temperature.
Remove the appropriate tools once the measurement is complete, refit the oil pressure switch and washer, tightening it to the specified torque and fit the flywheel cover.
If the oil pressure is not within the specified limits, in the following order, check: the oil filter, the oil by-pass valve, the oil pump and the crankshaft seals.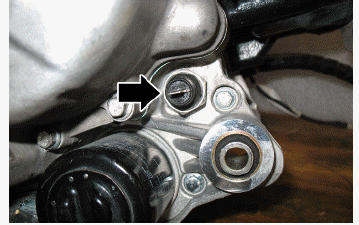 N.B.
THE CHECK MUST BE CARRIED OUT WITH OIL AT THE CORRECT LEVEL AND WITH AN OIL FILTER IN PROPER CONDITION.
Characteristic
Oil pressure
Minimum pressure admitted at 6000 rpm: 3.2 atm.
Locking torques (N*m)
Minimum oil pressure sensor 12 to 14
Crankshaft oil seals
Removal
Remove the transmission cover and the complete drive pulley beforehand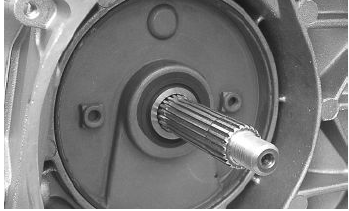 Install the base of the appropriate tool on the oil seal using the screws provided.
Specific tooling
020622Y Transmission-side oil seal punch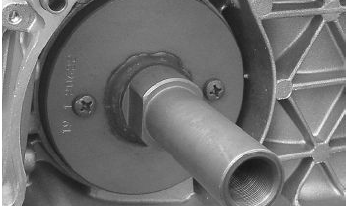 Screw the threaded bar onto the base of the tool and extract the oil seal.
Specific tooling
020622Y Transmission-side oil seal punch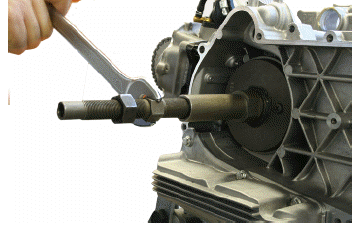 See also:
Always use a new oil seal upon refitting Prepare the new oil guard by lubricating the sealing lip. Preassemble the oil seal with the appropriate tool by positioning the screws. Insert the sheath over the crankshaft. Insert the tool with the oil seal on the crankshaft until it comes into contact with the crankcase. Insert the adaptor bushing of the tool in the hole on the crankcase. Orientate the oil seal by inserting the bracket which is part of the appropriate tool. Tighten the threaded bar onto the crankshaft as far as it will go. Use the nut to move the base of the tool until you can see the end of the oil seal driving stroke Remove all the tool components following the procedure but in reverse order