Always use a new oil seal upon refitting
Prepare the new oil guard by lubricating the sealing lip.
Preassemble the oil seal with the appropriate tool by positioning the screws.
Insert the sheath over the crankshaft.
Insert the tool with the oil seal on the crankshaft until it comes into contact with the crankcase.
Insert the adaptor bushing of the tool in the hole on the crankcase.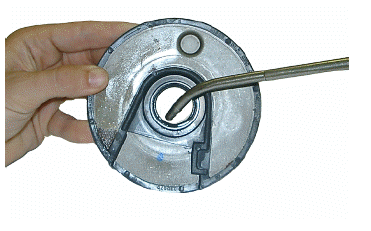 Orientate the oil seal by inserting the bracket which is part of the appropriate tool.
Tighten the threaded bar onto the crankshaft as far as it will go.
Use the nut to move the base of the tool until you can see the end of the oil seal driving stroke
Remove all the tool components following the procedure but in reverse order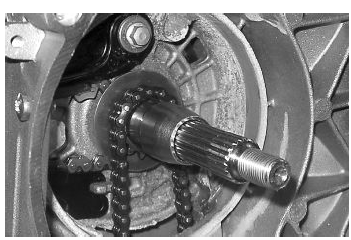 CAUTION
DO NOT LUBRICATE THE KEYING SURFACE ONTO THE ENGINE CRANKCASE.
CAUTION
ORIENT THE OIL SEAL BY POSITIONING THE CHAIN HOUSING CHANNEL FACING DOWNWARDS. WHEN THE POSITION IS REACHED, DO NOT RETRACT THE OIL SEAL. FAILURE TO COMPLY WITH THIS RULE CAN CAUSE A WRONG POSITIONING OF THE OIL SEAL SHEATH.
CAUTION
FAILURE TO COMPLY WITH THIS ASSEMBLY PROCEDURE CAN SERIOUSLY DAMAGE THE ENGINE DUE TO THE WRONG TENSIONING OF THE OIL PUMP CONTROL CHAIN.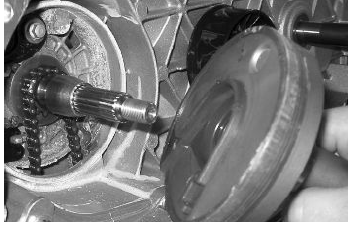 Specific tooling
020622Y Transmission-side oil seal punch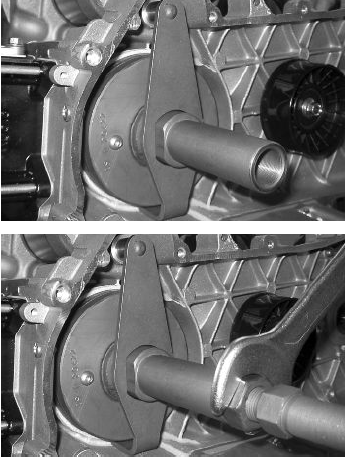 See also:
The high pressure circuit is highlighted in blue. The low pressure circuit is highlighted in green The lobe pump "1" sucks in oil from the sump through the mesh pre-filter "2", pushes it into the cartridge filter "3"; the main bushings and the big end are lubricated (with high pressure) through the suitable passages found in the crankcase halves "4" whereas the piston pin and connecting rod small end are lubricated via jet "5".
Removal Undo the two clamping screws in the figure and remove the cover over the pump control sprocket. Block the rotation of the oil pump control pulley with a screwdriver inserted through one of its two holes. Remove the central screw with Belleville washer, as shown in the diagram. Remove the chain with the crown. Remove the control sprocket wheel with relative O-ring. Remove the oil pump by undoing the two screws in the figure. Remove the oil pump seal.