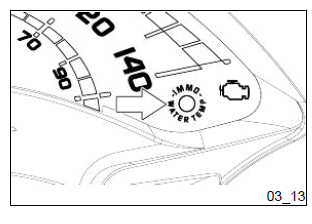 The cooling of the engine operates by forced circulation of liquid. The cooling circuit contains a coolant, made up of a mixture of 50% purified water and 50% glycoethylene antifreeze with corrosion inhibitors. The liquid that is found in the container is already mixed and ready to use.
With engine on, in case of excessive engine temperature, the corresponding warning light on the instrument panel turns on; let the engine cool down and check the fluid level; if it is as it should be, go to an Authorized Service Centre.
N.B.
IF THE ENGINE COOLANT WARNING LAMP ILLUMINATES WHILE RIDING, TURN THE ENGINE OFF IMMEDIATELY AND LEAVE IT TO COOL. THEN CHECK THE COOLANT LEVEL; IF THE LEVEL IS INCORRECT, CONTACT AN AUTHORISED SERVICE CENTRE.
NEVER REMOVE THE EXPANSION TANK CAP WHILE THE ENGINE IS HOT.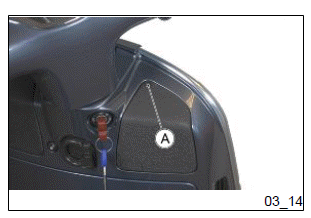 Check coolant when the engine is cold as indicated in the scheduled maintenance table, following the steps below.
1. Rest the vehicle upright on the stand and remove the screw "A" of the expansion tank cap shown in the photograph.
2. Check the fluid level that should always be between the "MIN" and "MAX" level "B" on the tank.
4. If necessary, perform the top up, with the engine cold, in the case that you find the liquid is too close to the minimum level.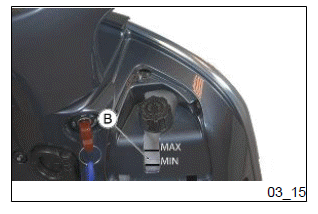 If the coolant needs to be topped up frequently or the expansion tank is completely dry, check the cooling system to find the cause of the problem. It is essential to have the cooling system checked at an Authorized Service Center. Replace coolant as indicated in the scheduled maintenance table. This operation must be carried out at an Authorized Service Center.
WARNING
TO AVOID THE RISK OF SCALDING, DO NOT UNSCREW THE EXPANSION TANK COVER WHILE THE ENGINE IS STILL HOT.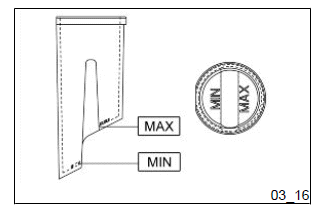 WARNING
TO PREVENT AVOID HARMFUL FLUID LEAKAGE WHILE RIDING, ENSURE THAT THE LEVEL NEVER EXCEEDS THE MAXIMUM VALUE.
TO ENSURE CORRECT ENGINE OPERATION, KEEP THE RADIATOR GRILLE CLEAN.
Checking the brake oil level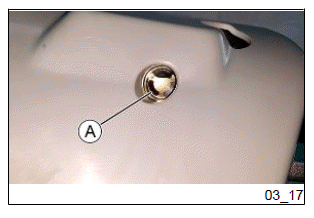 The front and rear brake fluid reservoirs are both positioned on the handlebar. Proceed as follows:
Rest the vehicle on its centre stand with the handlebars perfectly horizontal;
Check the fluid level through the sight glass "A".
A certain lowering of the level is caused by wear on the pads. Should the level appear to be below the minimum mark, please contact an Authorised Service Centre or Dealer in order to have a thorough inspection of the braking system carried out.
See also:
Check tyre pressure and wear periodically as indicated in the scheduled maintenance table. Tyres feature wear indicators; replace tyres as soon as these indicators become visible on the tyre tread. Also check that the tyres do not show signs of splitting at the sides or irregular tread wear; if this occurs, go to an authorised workshop or at least to a workshop equipped to replace tyres.
To reach the battery "D ", proceed as follows: 1. rest the scooter on its centre stand;