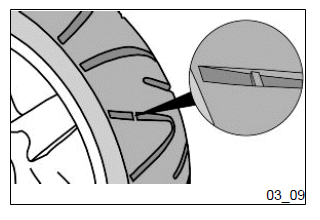 Check tyre pressure and wear periodically as indicated in the scheduled maintenance table. Tyres feature wear indicators; replace tyres as soon as these indicators become visible on the tyre tread. Also check that the tyres do not show signs of splitting at the sides or irregular tread wear; if this occurs, go to an authorised workshop or at least to a workshop equipped to replace tyres.
CAUTION
TYRE PRESSURE SHOULD BE CHECKED WHEN TYRES ARE COLD.INCORRECT TYRE PRESSURE CAUSES ABNORMAL TYRE WEAR AND MAKES RIDING DANGEROUS.
TYRES MUST BE REPLACED WHEN THE TREAD REACHES THE WEAR LIMITS SET FORTH BY LAW.
CAUTION
AS THE WHEELS ARE FITTED WITH ABS TONE WHEELS, TYRES MUST ONLY BE REPLACED BY AN AUTHORISED SERVICE NETWORK CENTRE.
WARNING
TO MAINTAIN THE EFFICIENCY OF THE ASR SYSTEM FOLLOWING THE REPLACEMENT OF ONE OR BOTH TYRES, THE CALIBRATION PROCEDURE OF THE SYSTEM MUST BE PERFORMED ACCORDING TO THE INDICATIONS IN THE SPECIFIC CHAPTER.
TYRES

TYRE INFLATION PRESSURE

Spark plug dismantlement
To remove the spark plug, proceed as follows:
Lift the saddle and remove the helmet compartment "A" to gain access to the spark plug by inserting your hand.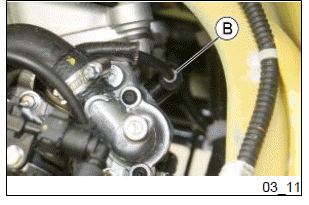 Disconnect the cap of the spark plug "B" H.V. cable.
Undo the spark plug using the specific spark plug spanner.
When reassembling, insert the spark plug at the proper inclination, hand tightening it until snug.
Use the key only for locking.
Fit the cap on the spark plug as far as it will go.
CAUTION
THE SPARK PLUGS MUST BE DISMANTLED WHEN THE ENGINE IS COLD.
SPARK PLUG MAINTENANCE IS DESCRIBED IN THE SCHEDULED MAINTENANCE TABLE. THE USE OF NON-CONFORMING ELECTRONIC CONTROL UNITS AND ELECTRONIC IGNITIONS AND SPARK PLUGS OTHER THAN THOSE RECOMMENDED MAY SERIOUSLY DAMAGE THE ENGINE.
N.B.
USING SPARK PLUGS OTHER THAN THE INDICATED TYPE OR SHIELD-LESS SPARK PLUG CAPS CAN CAUSE ELECTRICAL SYSTEM FAILURES.
Removing the air filter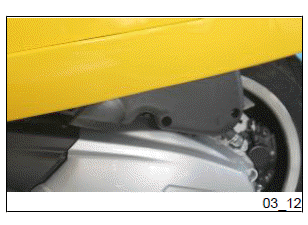 To remove and clean the air filter as instructed in the scheduled maintenance table, contact an Authorised Service Centre.
See also:
Check that the oil level in the hub is correct at the intervals specified in the scheduled maintenance table.
The cooling of the engine operates by forced circulation of liquid. The cooling circuit contains a coolant, made up of a mixture of 50% purified water and 50% glycoethylene antifreeze with corrosion inhibitors. The liquid that is found in the container is already mixed and ready to use.