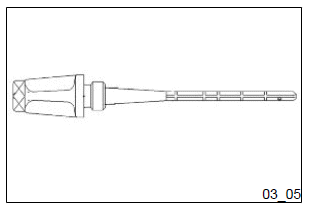 Check that the oil level in the hub is correct at the intervals specified in the scheduled maintenance table.
WARNING
THE PERIODIC HUB OIL LEVEL INSPECTIONS SPECIFIED IN THE SCHEDULED MAINTENANCE TABLE MUST BE CARRIED OUT BY AN AUTHORISED SERVICE CENTRE.
FOR THE CONTROLS OF THE HUB OIL LEVEL THAT ARE NOT PREDETERMINED BY THE SCHEDULED MAINTENANCE TABLE, OPERATE AS DESCRIBED.
LEVEL CHECK
To check the hub oil level, proceed as follows:
rest the vehicle on its centre stand on level ground;
unscrew and remove the oil dipstick A, wipe it clean with a clean cloth and then fit it back into place, tightening fully;
unscrew and remove the dipstick again and check that the oil level reaches the 1st notch on the dipstick from the bottom end;
refit the dipstick in its seat and tighten fully.
WARNING
THE FUNCTION OF THE HUB WITH INSUFFICIENT HUB LUBRICATION OR WITH CONTAMINATED OR IMPROPER LUBRICANTS ACCELERATES THE WEAR AND TEAR OF THE MOVING PARTS AND CAN CAUSE SERIOUS DAMAGE.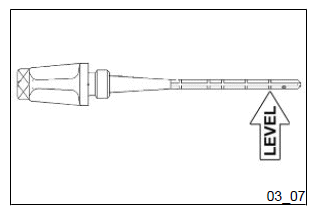 N.B.
THE OTHER NOTCHES ON THE HUB OIL DIPSTICK ARE APPLICABLE FOR OTHER MODELS AND HAVE NO FUNCTION ON THIS VEHICLE.
TOP-UP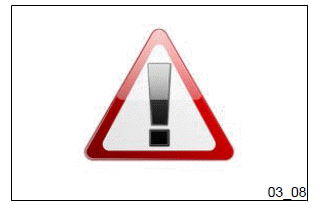 If necessary carry out the top-up, DO NOT use the vehicle and contact an Authorised Service Centre.
CAUTION
USED OILS CONTAIN SUBSTANCES HARMFUL TO THE ENVIRONMENT. FOR OIL REPLACEMENT, CONTACT ANY AUTHORISED SERVICE CENTRE AS THEY ARE EQUIPPED TO DISPOSE OF USED OILS IN AN ENVIRONMENTALLY FRIENDLY AND LEGAL WAY.
CAUTION
AN EXCESSIVE QUANTITY OF OIL CAN LEAD TO SPILL OVER, WHICH MAY CAUSE THE ENGINE AND THE WHEEL TO GET DIRTY.
CAUTION
WHEN REPLACING THE HUB OIL DO NOT LET THE OIL COME INTO CONTACT WITH THE REAR BRAKE DISC.
See also:
Every time the vehicle is used, visually inspect the level of the engine oil when the engine is cold (after completely unscrewing the oil cap/dipstick). The oil level should be somewhere between the MAX and MIN index marks on the level rod; "A"; while the oil is being checked, the vehicle must be resting on its centre stand on an even, horizontal surface.
Check tyre pressure and wear periodically as indicated in the scheduled maintenance table. Tyres feature wear indicators; replace tyres as soon as these indicators become visible on the tyre tread. Also check that the tyres do not show signs of splitting at the sides or irregular tread wear; if this occurs, go to an authorised workshop or at least to a workshop equipped to replace tyres.