Check that the driving belt is not damaged.
Check the width of the belt.
Characteristic
Driving belt - minimum width
19.5 mm
Driving belt - standard width
21.3 +- 0.2 mm
During the wear checks in foreseen in the scheduled maintenance program, you are advised to check that the rim bottom of the toothing does not show signs of incisions or cracking (see figure): The rim bottom of the tooth must not have incisions or cracking; if it does, change the belt.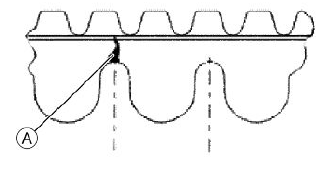 See also:
Measure the length of the spring when it is relaxed. Characteristic Standard length 123 mm Acceptable limit after use: 118 mm
Turn the crankshaft until the ropes of the pulley are on a horizontal axis Insert the adaptor sleeve of the appropriate tool in the hole shown in the picture Insert the tool in the hollows and apply the retention ring Bring in the ring's clamping screws while keeping the tool to support the pulley