Turn the crankshaft until the ropes of the pulley are on a horizontal axis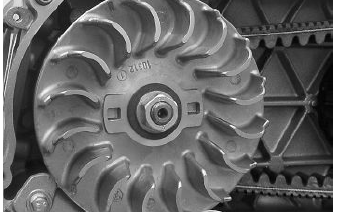 Insert the adaptor sleeve of the appropriate tool in the hole shown in the picture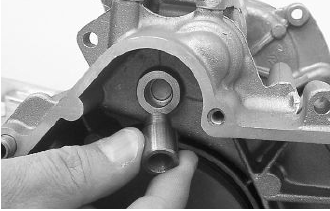 Insert the tool in the hollows and apply the retention ring
Bring in the ring's clamping screws while keeping the tool to support the pulley
Specific tooling
020626Y Driving pulley lock wrench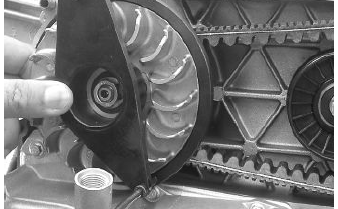 Remove the fixing nut and the washer
Remove the stationary drive pulley half.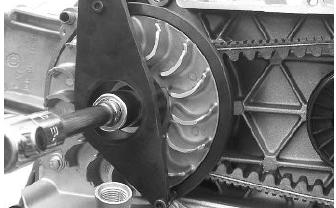 Inspecting the rollers case
Check that the internal bushing shown in the figure is not abnormally worn and measure inner diameter A.
Measure outer diameter B of the pulley sliding bushing shown in the figure.
Check that the rollers are not damaged or worn.
Check the guide shoes for the variator back-plate are not worn.
Check the wear of the roller housings and of the belt faying surfaces on both pulley halves.
Check that stationary driving pulley does not show signs of abnormal wear on the grooved edge and on the surface in contact with the belt.
Check that the O-ring is not pushed out of shape.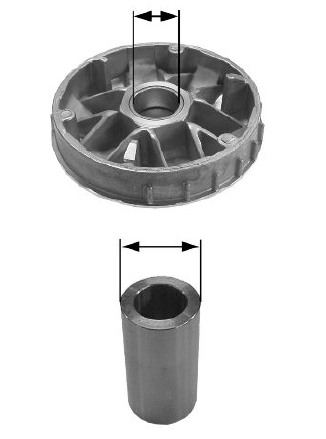 CAUTION
DO NOT LUBRICATE OR CLEAN SINTERED BUSHINGS
Characteristic
movable driving half-pulley bushing: Standard Diameter
26.000 - 26.021 mm
movable driving half-pulley bushing: Maximum allowable diameter
Ø 26.12 mm
Sliding bushing: Standard Diameter
Ø 25.959 ÷ 25.98 mm
Sliding bushing: Minimum admissible diameter
Ø 25.95 mm
Roller: Standard Diameter
Diameter 20.5 - 20.7 mm
Roller: Minimum diameter permitted
Ø 20 mm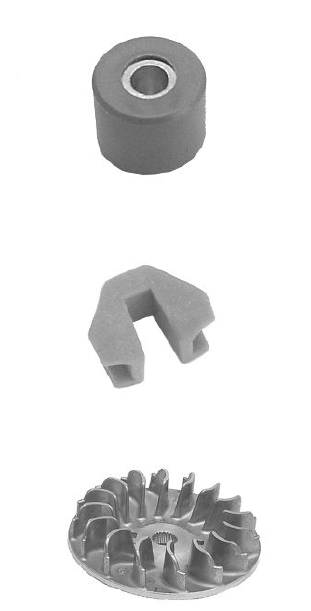 See also:
Check that the driving belt is not damaged. Check the width of the belt. Characteristic Driving belt - minimum width 19.5 mm Driving belt - standard width 21.3 +- 0.2 mm
Preassemble the movable half-pulley with the roller contrast plate by putting the rollers in their housings with the larger support surface touching the pulley according to the direction of rotation. Check that the roller contact plate does not have flaws and is not damaged on the grooved edge. Mount the complete bushing unit on the crankshaft. Fit the driven pulley/Clutch/belt unit on the engine. Fit the steel shim in contact with the bushing and the stationary drive pulley. Install the appropriate tool as described in the removal phase. Tighten the nut with washer to the prescribed torque.