Removing the starter motor
Remove the two screws indicated in the figure
Take the starter motor out of its seat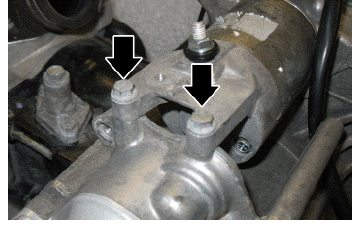 Removing the flywheel magneto
Remove the screw and the plate of the starting sprocket.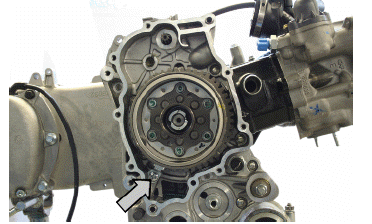 Fit the specific tool, screw the guide bushing to the flywheel, insert the flywheel stop tool as shown in the picture.
Specific tooling
020627Y Flywheel lock wrench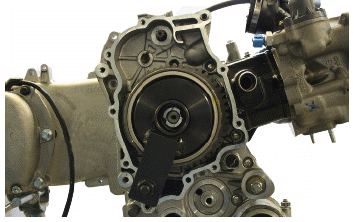 Undo the flywheel screw and remove the washer.
Manually screw the nut without washer, being careful not to leave the first threads uncovered.
CAUTION
SCREWING UP THE NUT WITHOUT WASHER HELPS PROTECT THE THREAD AGAINST THE STRAIN EXERTED BY THE EXTRACTOR AND ALSO PREVENTS DROPPING THE FLYWHEEL ACCIDENTALLY UPON EXTRACTING IT. POTENTIAL DROPS MAY DAMAGE THE CERAMIC INSERTS.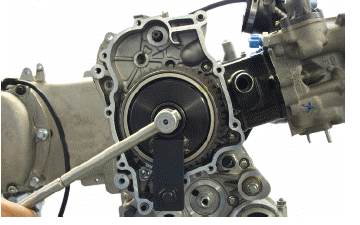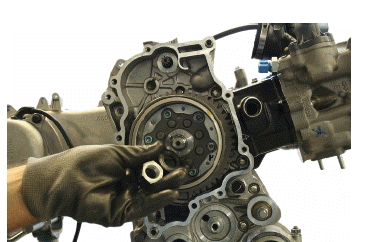 Specific tooling
020467Y Flywheel extractor
Act on the extractor to remove the flywheel together with the starting sprocket.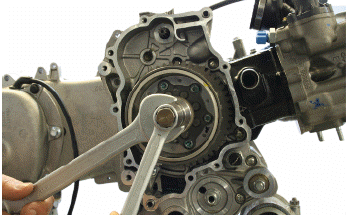 Inspecting the flywheel components
Check the integrity of the internal plastic parts of the flywheel and the Pickup control plate.
See also:
Removing the hub cover Remove the clamps fastening the water pipes on the pump cover. Detach the pipes from the pump cover. Unscrew the ten screws fastening the flywheel, retrieving the indicated plate. Disconnect the electric connector from the minimum oil pressure switch. Remove the flywheel cover. Remove the gasket and be careful with the two alignment dowels.
See also Removing the flywheel magneto Intermediate gear Remove the flywheel cover. Remove the intermediate gear and take it out of its housing.