See also
Removing the flywheel magneto
Intermediate gear
Remove the flywheel cover.
Remove the intermediate gear and take it out of its housing.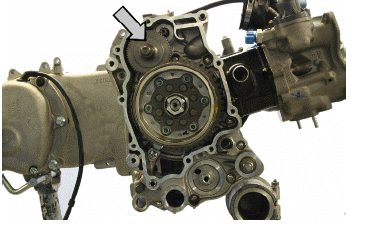 Refitting the free wheel
Make sure the freewheel faying surfaces are in good condition.
Thoroughly clean the free wheel to remove LOCTITE residue.
Degrease the threading of the holes in the free wheel and the clamping screws.
Apply the recommended product to the end of the screws.
Recommended products
Loctite 243 Medium-strength threadlock
Medium Loctite 243 threadlock
Fit the freewheel on the magneto flywheel making sure that the ground side is in contact with the flywheel itself, i.e. with wheel Seeger ring visible.
Lock the six clamping screws in criss-cross fashion to the prescribed torque.
Locking torques (N*m)
Screw fixing freewheel to flywheel 13 - 15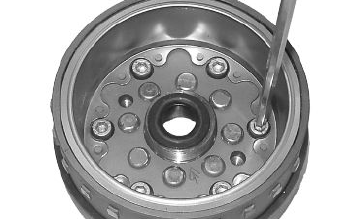 Oil the free wheel "rollers".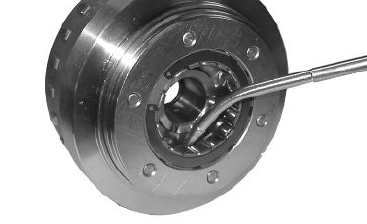 Refitting the flywheel magneto
Remove the freewheel retaining plate indicated in the picture
Remove the transmission gear and the freewheel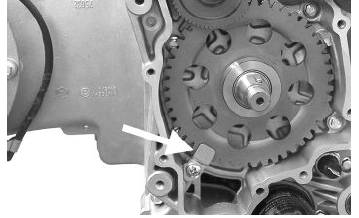 Insert the free wheel on the flywheel as shown in the picture
Then refit the flywheel with free wheel and transmission gear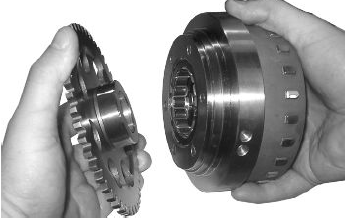 Using the special flywheel lock wrench, tighten up the flywheel fixing nut to the prescribed torque
Refit the retention plate
Specific tooling
020627Y Flywheel lock wrench
Locking torques (N*m)
Flywheel nut 94 - 102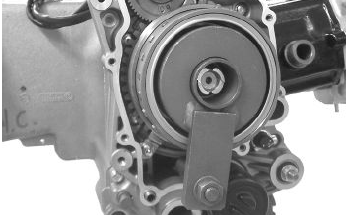 Refitting the starter motor
Fit a new O-ring on the starter motor and lubricate it.
Fit the starter motor on the crankcase and lock the 2 screws to the prescribed torque.
Locking torques (N*m)
Starter motor screws 11 - 13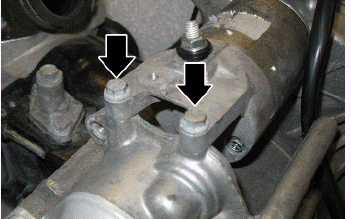 See also:
Removing the starter motor Remove the two screws indicated in the figure Take the starter motor out of its seat