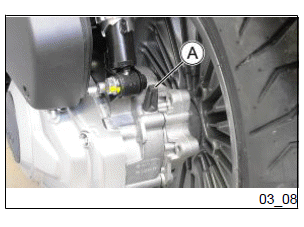 Check the oil in the rear hub. To check the rear hub oil level, proceed as follows:
1. Rest the vehicle onto its centre stand, on level ground.
2. Unscrew the hub oil dipstick "A", dry it with a clean cloth. Reinsert it and screw it fully into place.
3. Pull out the dipstick to check that the hub oil level is slightly over the notch indicated by the arrow in the figure. This is the correct level and it must remain constant at all times.
4. Screw the dipstick back in, checking that it is locked in place.
N.B.
THE NOTCHES ON THE HUB OIL LEVEL DIPSTICK, EXCEPT THE ONE INDICATING THE MAX LEVEL, REFER TO OTHER MODELS BY THE MANUFACTURER AND HAVE NO SPECIFIC FUNCTION FOR THIS MODEL.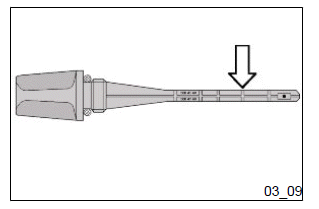 CAUTION
RIDING THE VEHICLE WITH INSUFFICIENT HUB LUBRICATION OR WITH CONTAMINATED OR IMPROPER LUBRICANTS ACCELERATES THE WEAR AND TEAR OF THE MOVING PARTS AND CAN CAUSE SERIOUS DAMAGE.
CAUTION
USED OIL CAN HARM THE ENVIRONMENT. COLLECTION AND DISPOSAL SHOULD BE CARRIED OUT IN COMPLIANCE WITH REGULATIONS IN FORCE.
CAUTION
AN EXCESSIVE QUANTITY OF OIL CAN LEAD TO SPILL OVER, WHICH MAY CAUSE THE ENGINE AND THE WHEEL TO GET DIRTY.
CAUTION
WHEN REPLACING THE HUB OIL DO NOT LET THE OIL COME INTO CONTACT WITH THE REAR BRAKE DISC.
CAUTION
FOR OIL REPLACEMENT, CONTACT ANY AUTHORISED SERVICE CENTRE AS THEY ARE EQUIPPED TO DISPOSE OF USED OILS IN AN ENVIRONMENTALLY FRIENDLY AND LEGAL WAY.
Recommended products
AGIP ROTRA 80W-90
Rear hub oil
SAE 80W/90 Oil that exceeds the requirements of API GL3 specifications
Characteristic
Transmission oil
250 cm³
See also:
The vehicle is equipped with a warning light that comes on when the key is turned to "ON". However, this light should come off once the engine has been started. If the light comes on while braking, at idle speed or while turning a corner, it is necessary to check the oil level and top it up if required. If after having topped-up the oil, the warning light still comes on while braking, at idle speed or while turning a corner, it will be necessary to take your vehicle to an Authorised Service Centre.
Check tyre pressure and wear periodically as indicated in the scheduled maintenance table. Tyres feature wear indicators; replace tyres as soon as these indicators become visible on the tyre tread. Also check that the tyres do not show signs of splitting at the sides or irregular tread wear; if this occurs, go to an authorised workshop or at least to a workshop equipped to replace tyres.