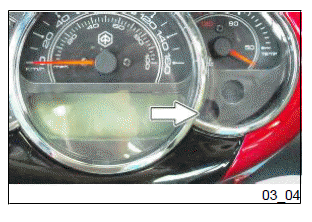 The vehicle is equipped with a warning light that comes on when the key is turned to "ON". However, this light should come off once the engine has been started. If the light comes on while braking, at idle speed or while turning a corner, it is necessary to check the oil level and top it up if required. If after having topped-up the oil, the warning light still comes on while braking, at idle speed or while turning a corner, it will be necessary to take your vehicle to an Authorised Service Centre.
Engine oil change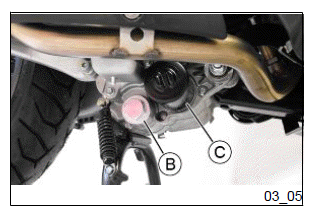 Have oil changed and the cartridge filter "C" replaced as indicated in the scheduled maintenance table at an Authorised Service Centre. The engine should be emptied by draining the oil through drainage plug "B " of the mesh filter on the flywheel side.
In order to facilitate the oil drainage, loosen the cap/dipstick. Since a certain quantity of oil still remains in the circuit, add approx. 950 ÷ 1000 cm³ of oil through the cap "A. Then start the engine, leave it running for a few minutes and shut it off: after 5 minutes, check the level and if necessary, top-up without exceeding the MAX level.
The cartridge filter must be replaced at every oil change. For top-ups and changes, use new oil of the recommended type.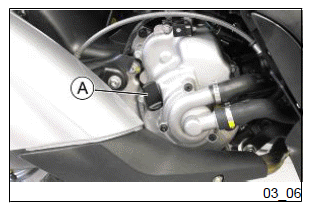 WARNING
RUNNING THE ENGINE WITH INSUFFICIENT LUBRICATION OR WITH INADEQUATE LUBRICANTS ACCELERATES THE WEAR AND TEAR OF THE MOVING PARTS AND CAN CAUSE IRRETRIEVABLE DAMAGE.
WARNING
EXCESSIVE OIL LEVEL AT TOP-UPS CAN LEAD TO SCALE FORMATION AND VEHICLE MALFUNCTION.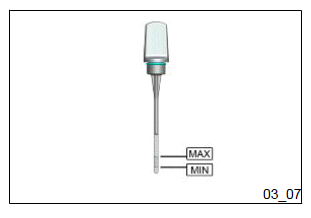 CAUTION
USED OILS CONTAIN SUBSTANCES HARMFUL TO THE ENVIRONMENT. FOR OIL CHANGE, CONTACT AN AUTHORISED SERVICE CENTRE WHICH IS EQUIPPED TO DISPOSE OF USED OILS IN AN ENVIRONMENTALLY FRIENDLY AND LEGAL WAY.
CAUTION
USING OILS OTHER THAN THOSE RECOMMENDED CAN SHORTEN THE LIFE OF THE ENGINE.
Recommended products
AGIP CITY HI TEC 4T
Engine oil
SAE 5W-40, API SL, ACEA A3, JASO MA Synthetic oil
See also:
In 4-stroke engines, engine oil is used to lubricate the distribution elements, the bushes and the thermal group. An insufficient quantity of oil can cause serious damage to the engine. In all four-stroke engines, a loss of efficiency in oil performance and certain consumption should be considered normal. Consumption can particularly reflect the conditions of use (i.e. when driving at "full acceleration" all the time, oil consumption increases). The replacement frequencies provided for by the maintenance programme are defined, depending on the total contents of oil in the engine and average consumption measured following standardised methods.
Check the oil in the rear hub. To check the rear hub oil level, proceed as follows: 1. Rest the vehicle onto its centre stand, on level ground.