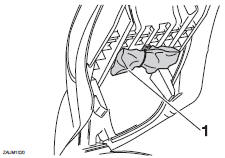 Owner's tool kit
The owner's tool kit is located under the seat.
The service information included in this manual and the tools provided in the owner's tool kit are intended to assist you in the performance of preventive maintenance and minor repairs. However, additional tools such as a torque wrench may be necessary to perform certain maintenance work correctly.
TIP
If you do not have the tools or experience required for a particular job, have a Yamaha dealer perform it for you.
TIP
The annual checks must be performed every year, except if a kilometer-based maintenance, or for the UK, a mileage-based maintenance, is performed instead.
From 50000 km (30000 mi), repeat the maintenance intervals starting from 10000 km (6000 mi).
Items marked with an asterisk should be performed by a Yamaha dealer as they require special tools, data and technical skills.
Periodic maintenance chart for the emission control system

General maintenance and lubrication chart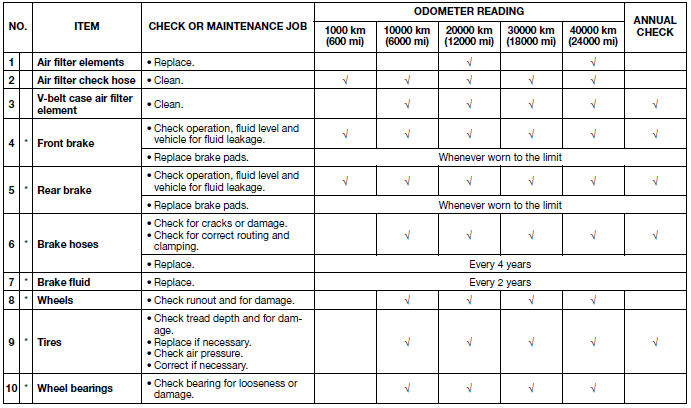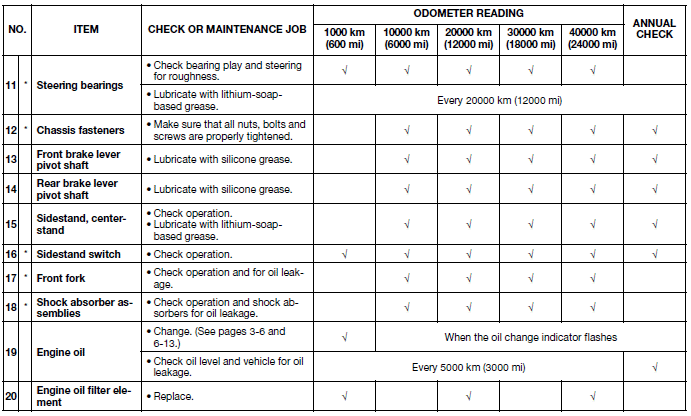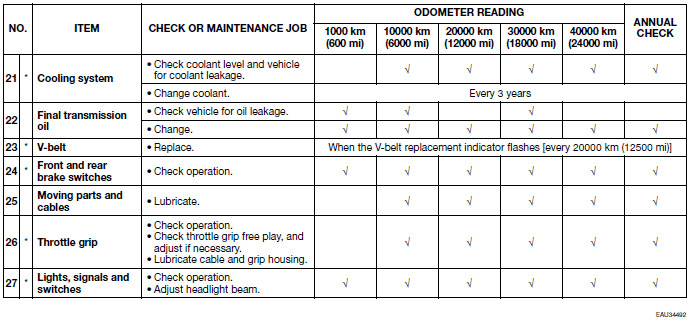 TIP
Engine air filters and V-belt air filter
This model's engine air filters are equipped with disposable oil-coated paper elements, which must not be cleaned with compressed air to avoid damaging them.
The engine air filter elements need to be replaced and the V-belt air filter element needs to be serviced more frequently when riding in unusually wet or dusty areas.
Hydraulic brake service
Regularly check and, if necessary, correct the brake fluid level.
Every two years replace the internal components of the brake master cylinders and calipers, and change the brake fluid.
Replace the brake hoses every four years and if cracked or damaged.
See also:
Periodic inspection, adjustment, and lubrication will keep your vehicle in the safest and most efficient condition possible. Safety is an obligation of the vehicle owner/operator. The most important points of vehicle inspection, adjustment, and lubrication are explained on the following pages.
The panels shown need to be removed to perform some of the maintenance jobs described in this chapter. Refer to this section each time a panel needs to be removed and installed. Panel A Panel B Panel C Panel D