Carry out the listed tests before delivering the vehicle.
Warning - Handle fuel with care.
Aesthetic inspection
Appearance check:
Paintwork
Fitting of plastics
Scratches
Dirt
Tightening torques inspection
Visually check that there is a yellow mark on the following clamps:
FRONT SUSPENSION
Front wheel pin nut.
Screws fixing wheel pin on right fork leg.
FRONT BRAKE
Screws fixing front brake callipers to fork.
Brake pipes / front brake calliper coupling.
REAR SUSPENSION
Rear wheel tightening screws.
Lower shock absorber retainer.
Nuts fixing muffler supporting arm - engine.
Screws fixing muffler to supporting arm.
Rear wheel pin nut.
REAR BRAKE
Screws fixing rear brake calliper to supporting plate.
Brake pipe to rear brake calliper coupling.
Screws fixing supporting plate to engine.
Electrical system
Main switch
Lights: high-beam lights, low-beam lights, taillights (front and rear) and relevant warning lights - Headlight adjustment according to the regulations currently in force
Front and rear stop light buttons and relative light
Turn indicators and relative telltales
Instrument lighting
instruments: fuel and temperature indicator
Instrument panel lights
Horn
Electrical start up
Engine stopping with emergency stop switch
electric saddle opening button
CAUTION
TO ENSURE MAXIMUM PERFORMANCE, THE BATTERY MUST BE CHARGED BEFORE USE.
INADEQUATE CHARGING OF THE BATTERY WITH A LOW LEVEL OF ELECTROLYTE BEFORE IT IS FIRST USED SHORTENS THE LIFE OF THE BATTERY.
CAUTION
WHEN INSTALLING THE BATTERY, ATTACH THE POSITIVE LEAD FIRST AND THEN THE NEGATIVE ONE.
WARNING
BATTERY ELECTROLYTE IS TOXIC AND IT MAY CAUSE SERIOUS BURNS. IT CONTAINS SULPHURIC ACID. AVOID CONTACT WITH YOUR EYES, SKIN AND CLOTHING.
IN CASE OF CONTACT WITH YOUR EYES OR SKIN, RINSE WITH ABUNDANT WATER FOR ABOUT 15 MINUTES AND SEEK IMMEDIATE MEDICAL ATTENTION.
IF IT ACCIDENTALLY SWALLOWED, IMMEDIATELY DRINK LARGE QUANTITIES OF WATER OR VEGETABLE OIL. SEEK IMMEDIATE MEDICAL ATTENTION.
BATTERIES PRODUCE EXPLOSIVE GASES; KEEP THEM AWAY FROM NAKED FLAMES, SPARKS. IF THE BATTERY IS CHARGED IN A CLOSED PLACE, TAKE CARE TO ENSURE ADEQUATE VENTILATION. ALWAYS PROTECT YOUR EYES WHEN WORKING CLOSE TO BATTERIES.
KEEP OUT OF THE REACH OF CHILDREN
CAUTION
NEVER USE FUSES WITH A CAPACITY HIGHER THAN THE RECOMMENDED CAPACITY. USING A FUSE OF UNSUITABLE RATING MAY SERIOUSLY DAMAGE THE VEHICLE OR EVEN CAUSE A FIRE.
Levels check
Level check:
Hydraulic brake system liquid level.
Rear hub oil level
Engine coolant level
Engine oil level
Road test
Test ride
Cold start
Instrument operations
Response to the throttle control
Stability on acceleration and braking
Rear and front brake efficiency
Rear and front suspension efficiency
Abnormal noise
Static test
Static control after the test ride:
Hot engine restart
Minimum seal (turning the handlebar)
Uniform steering rotation
Possible losses
electric radiator fan operation
CAUTION
CHECK AND ADJUST TYRE PRESSURE WITH TYRES AT AMBIENT TEMPERATURE.
CAUTION
NEVER EXCEED THE RECOMMENDED INFLATION PRESSURES OR TYRES MAY BURST.
Functional inspection
Functional Checks:
Hydraulic braking system: lever travel
Clutch: proper functioning check
Engine: proper general functioning and no abnormal noise check
Other: papers check, chassis and engine number check, tools and equipment, licence plate fitting, lock check, tyre pressure check, rear-view mirror and any accessory fitting
Instruments start-up
Use the switch "MODE" to "ODO" mode
Hold the switch "MODE" for more than 3 seconds, the hours will be displayed. Hours will increase each time the "MODE" button is pressed.
Once the hour is adjusted, hold the switch "MODE" more than 3 seconds to display the minutes. Minutes will increase each time the "MODE" button is pressed.
If no key is pressed for 3 seconds, the system will leave the clock adjustment mode.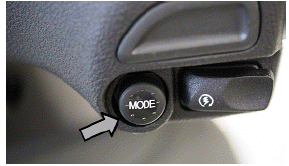 WARNING
FOR SAFETY REASONS, CLOCK ADJUSTMENT IS POSSIBLE EXCLUSIVELY WITH VEHICLE SPEED EQUAL TO 0 Km/h.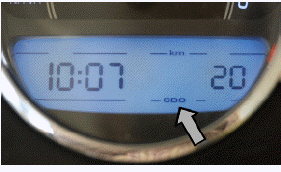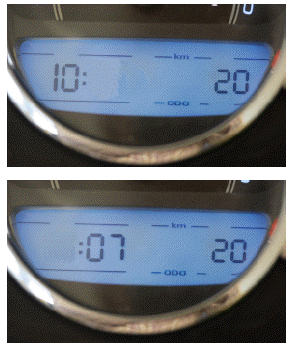 TRIP COUNTER PARTIAL RESET
In the partial trip counter function, press and hold the MODE button for longer than 3 seconds and it will reset.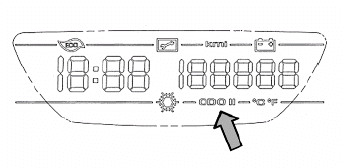 SELECT MILES - KM
When using the function measuring the voltage of the battery, holding down the MODE button for longer than 10 seconds will switch between reading in kilometres or miles for the odometer.
For the first 5 seconds the bearing will not give any signal, for the next 5 seconds the message of the unit of measurement (Km or miles) currently in use will blink at a frequency of 1Hz. If the button is released before 10 seconds the measurement unit is not changed.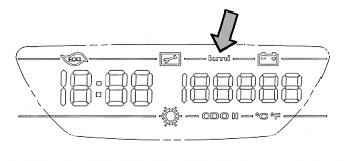 Time
Engine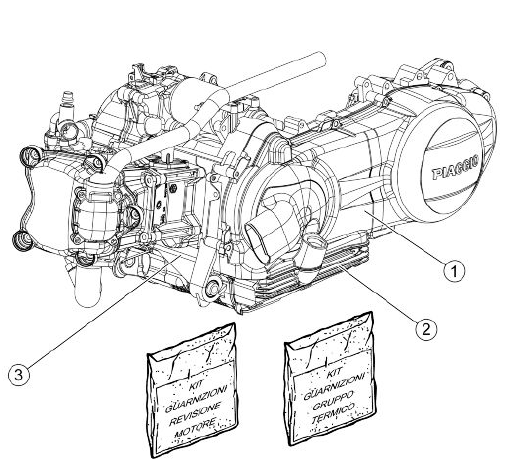 ENGINE

Crankcase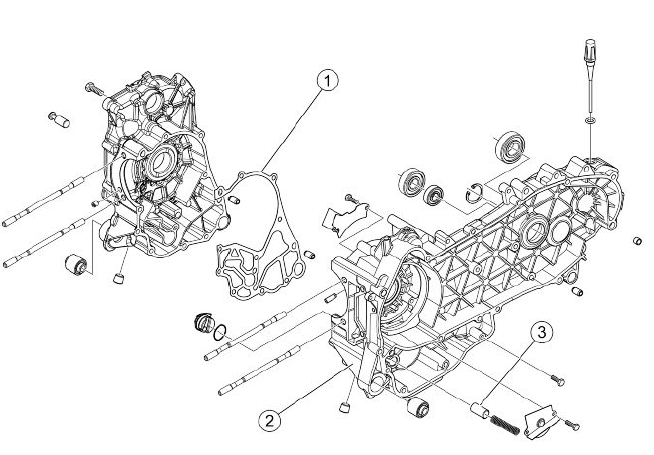 CRANKCASE

Crankshaft
CRANKSHAFT

Cylinder assy.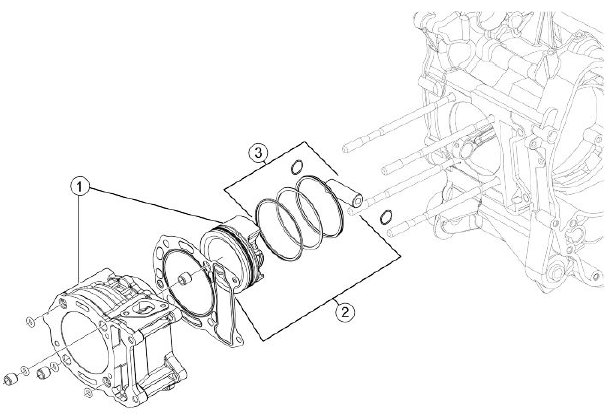 CYLINDER - PISTON

Cylinder head assy.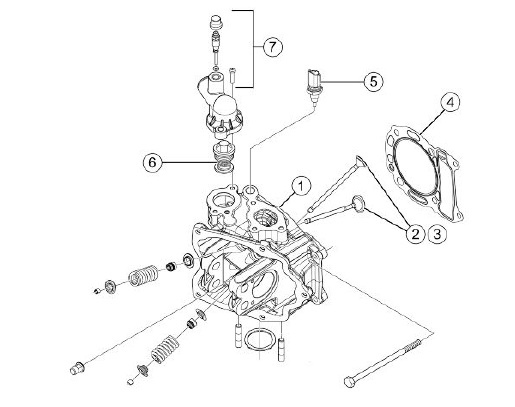 VALVE HEAD

Rocker arms support assy.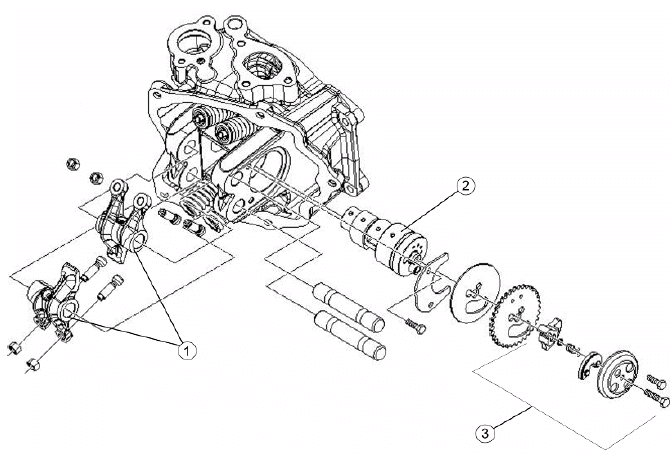 CAMSHAFT

Cylinder head cover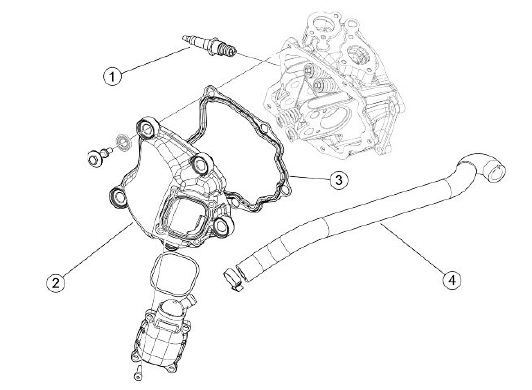 HEAD COVER

Oil filter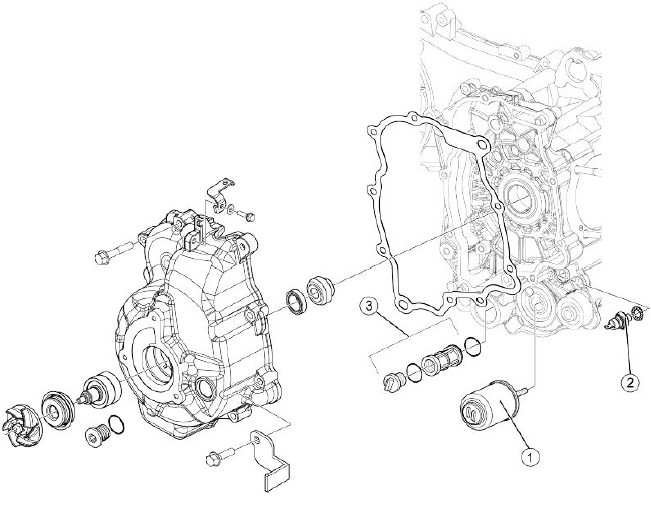 OIL FILTER

Flywheel cover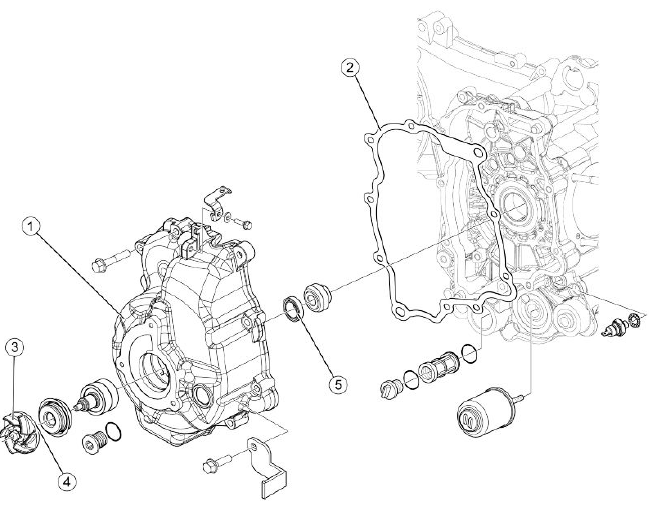 FLYWHEEL COVER

Driven pulley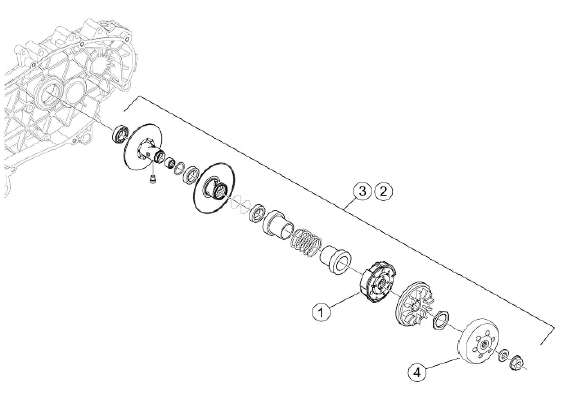 DRIVEN PULLEY

Oil pump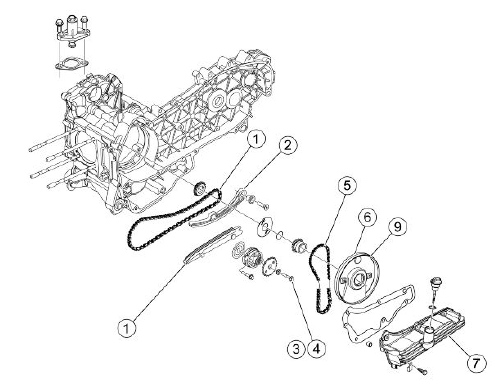 OIL PUMP

Final gear assy.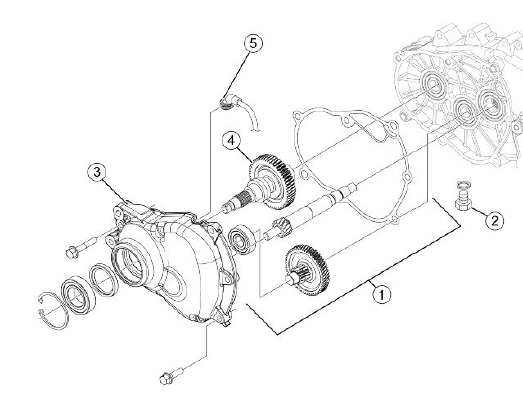 FINAL REDUCTION

Driving pulley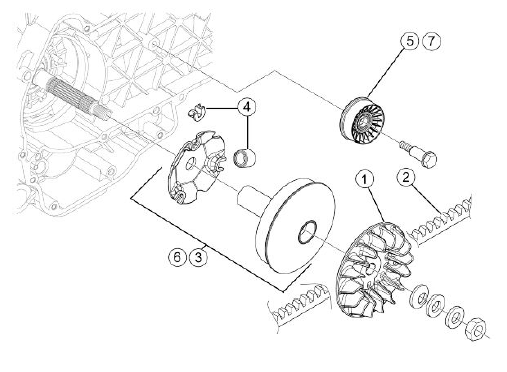 DRIVING PULLEY

Transmission cover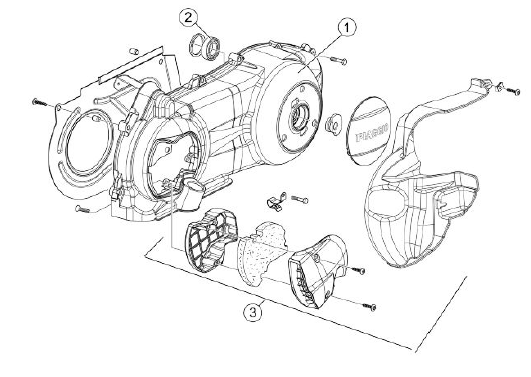 TRANSMISSION COVER

Water pump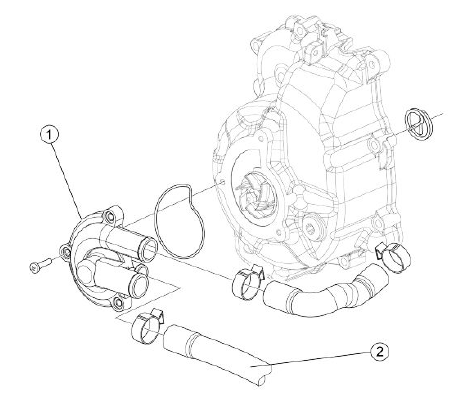 WATER PUMP

Starter motor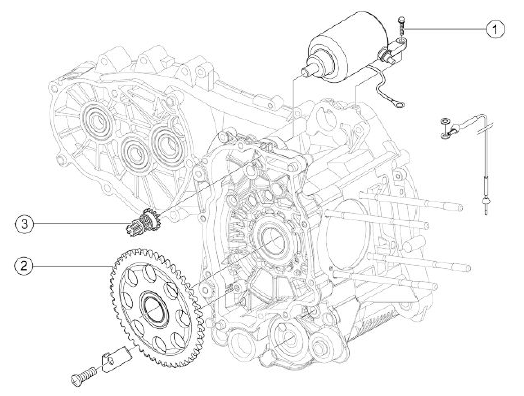 ELECTRIC STARTER

Flywheel magneto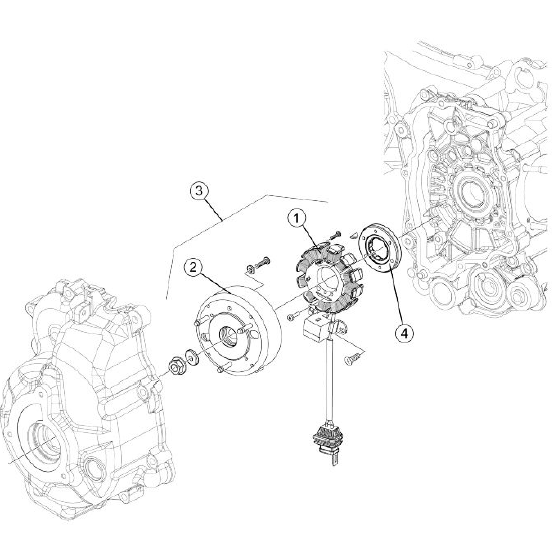 MAGNETO FLYWHEEL

Butterfly valve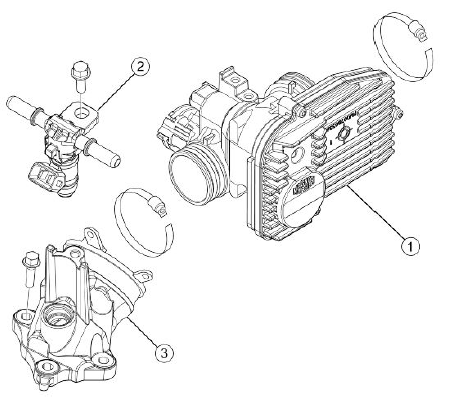 THROTTLE BODY

Exhaust pipe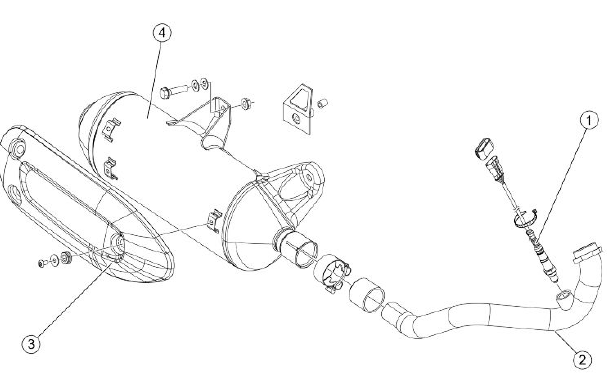 SILENCER

Air cleaner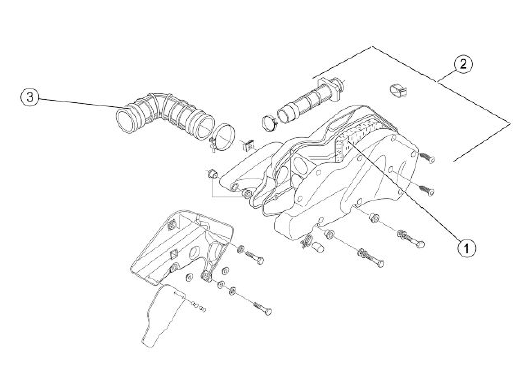 AIR CLEANER

Frame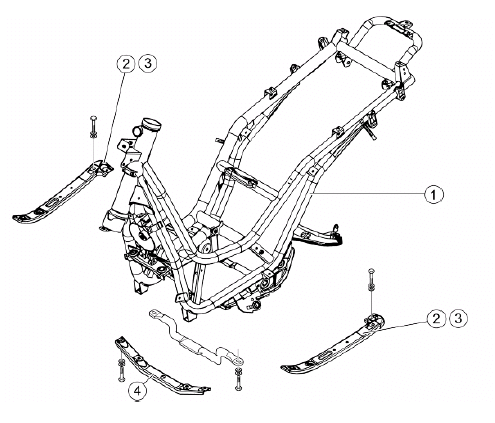 CHASSIS

Centre-stand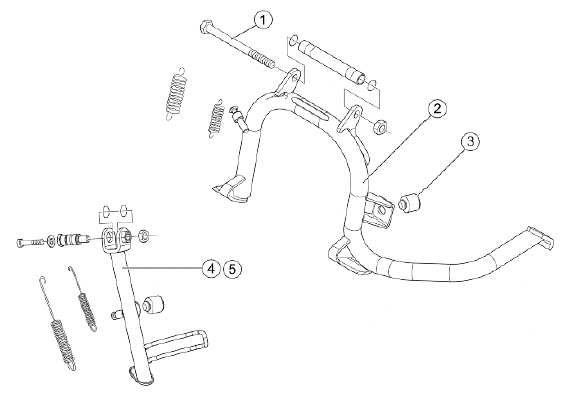 STAND

Legshield spoiler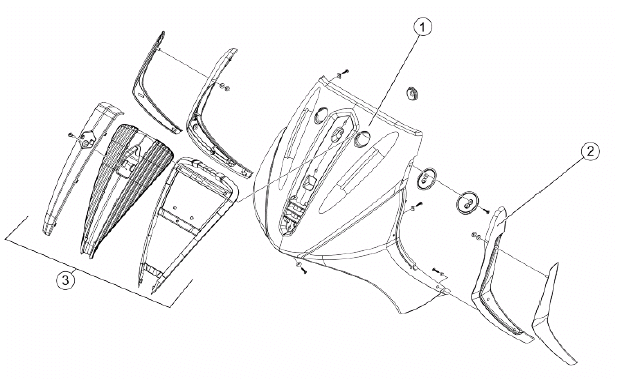 LEGSHIELD - SPOILER

Side fairings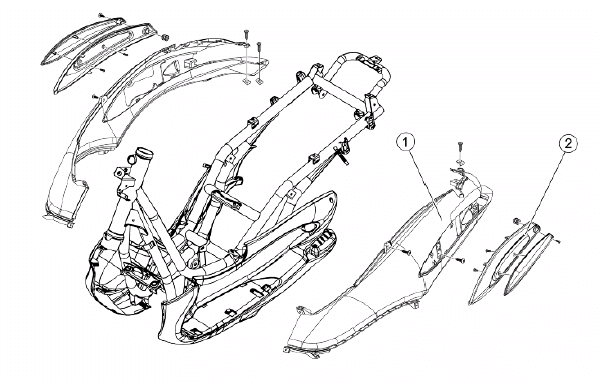 SIDE COVERS

Rear cover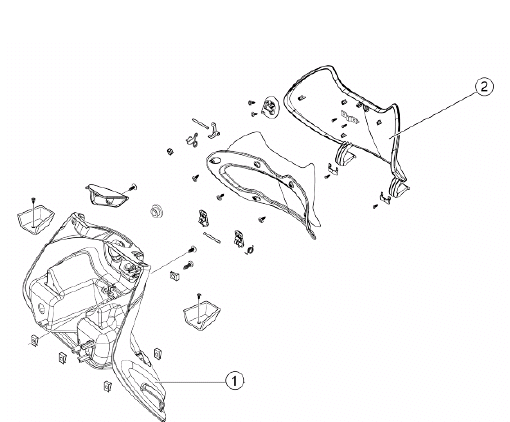 REAR SHIELD

Central cover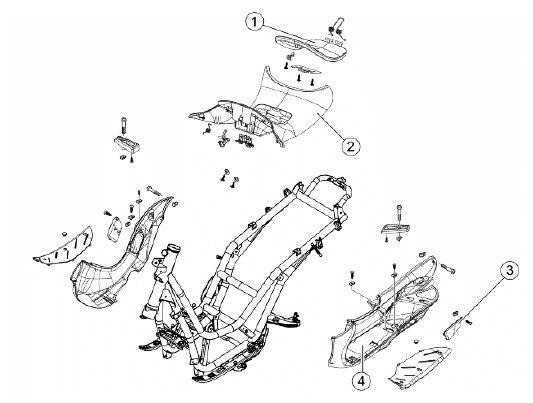 CENTRAL COVER

Underseat compartment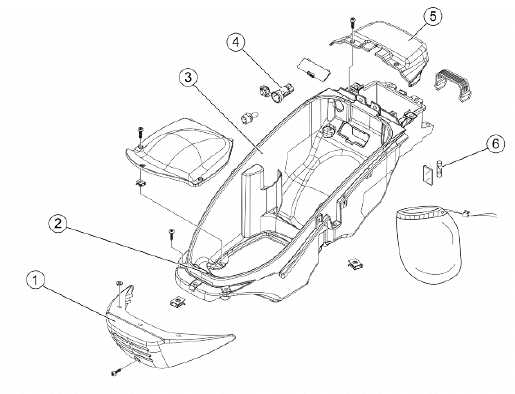 HELMET COMPARTMENT

Plate holder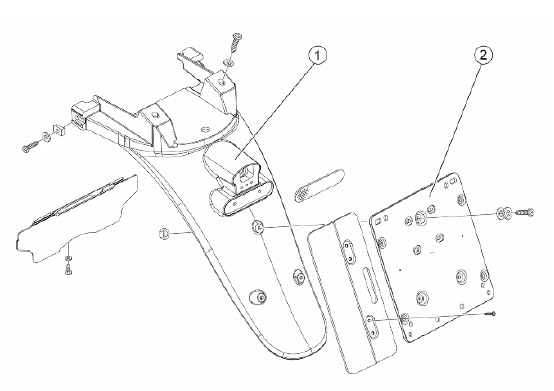 LICENSE PLATE HOLDER

Mudguard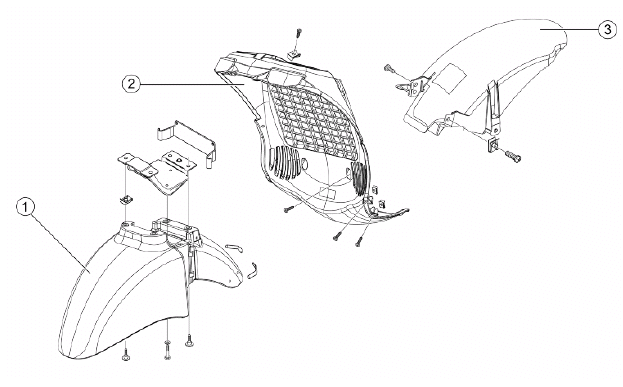 MUDGUARDS

Fuel tank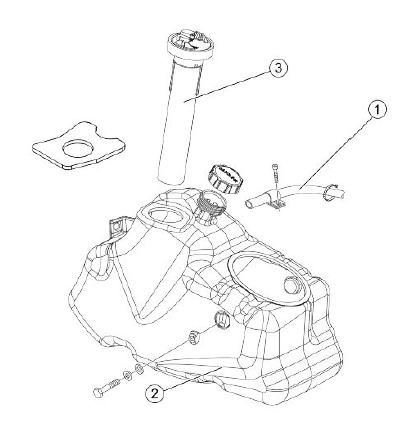 FUEL TANK

Rear shock-absorber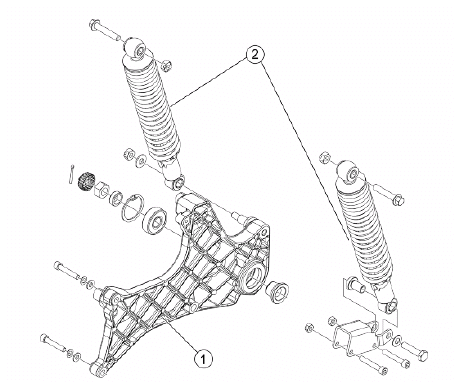 REAR SHOCK ABSORBER

Handlebar covers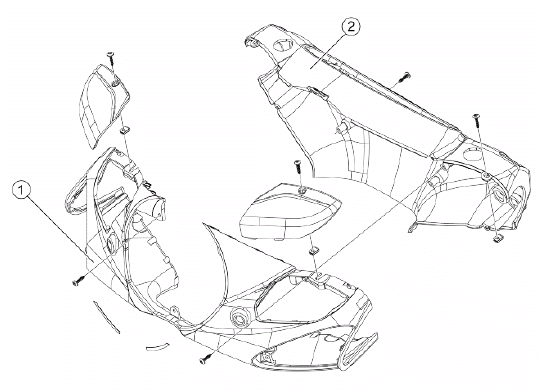 HANDLEBAR COVERS

Handlebar components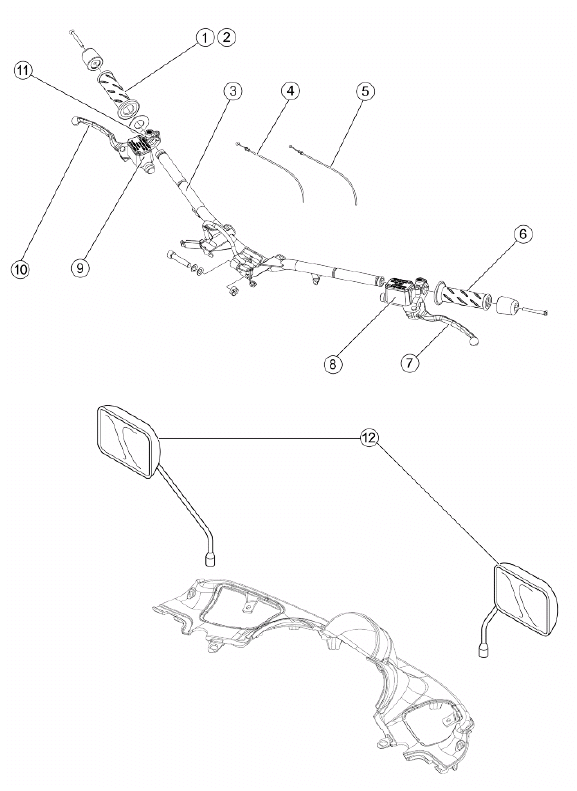 HANDLEBAR COMPONENTS


Swing-arm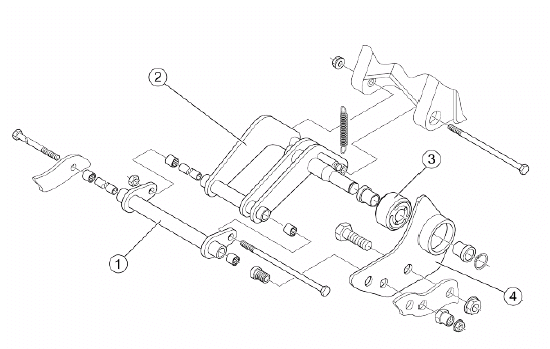 SWINGING ARM

Brake hoses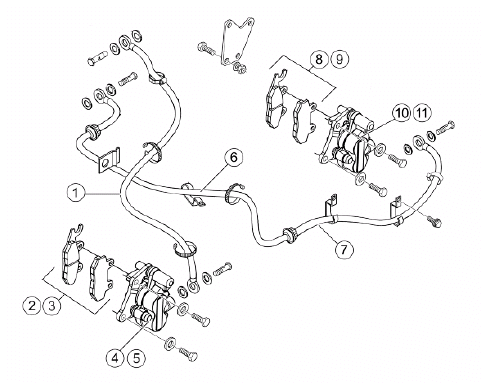 BRAKE PIPING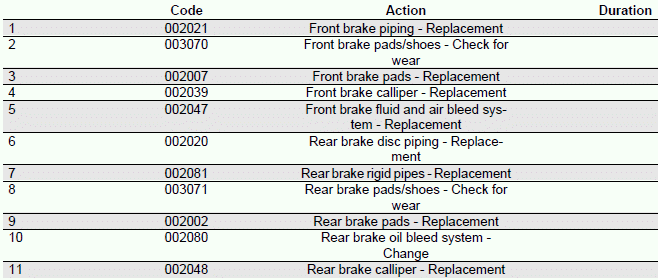 Seat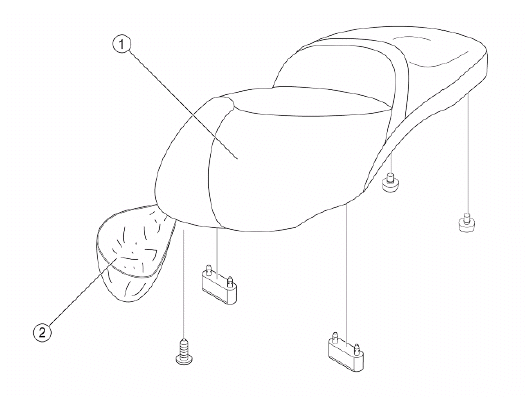 SADDLE

Instrument panel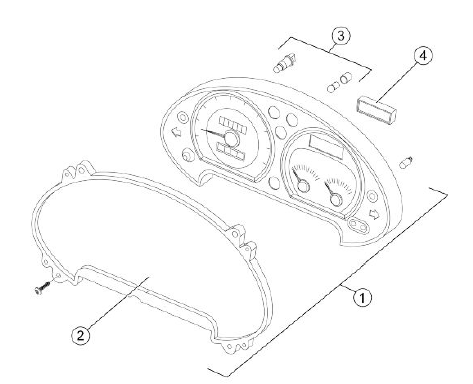 INSTRUMENT PANEL

Rear rack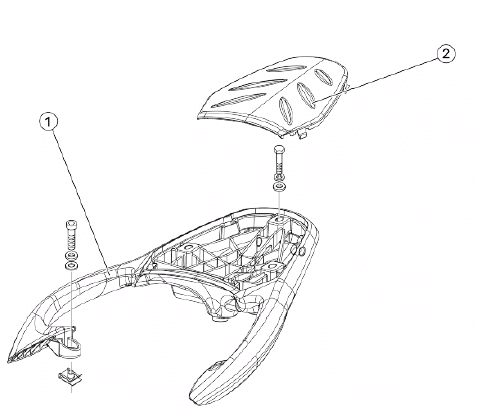 LUGGAGE RACK

Locks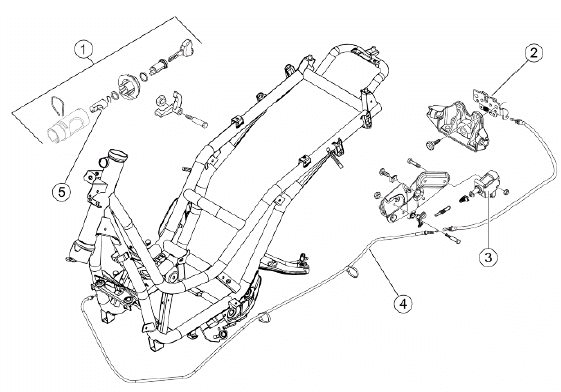 LOCKS

Turn signal lights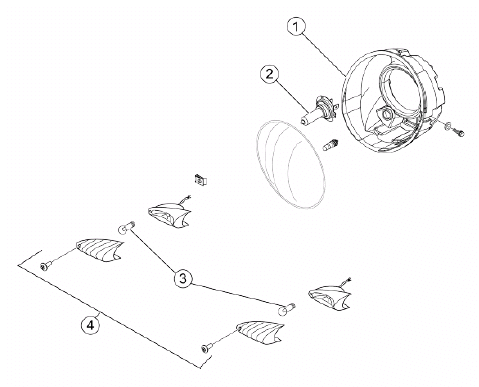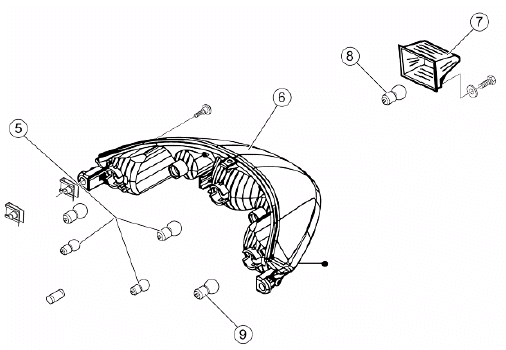 TURN INDICATOR LIGHTS


Front wheel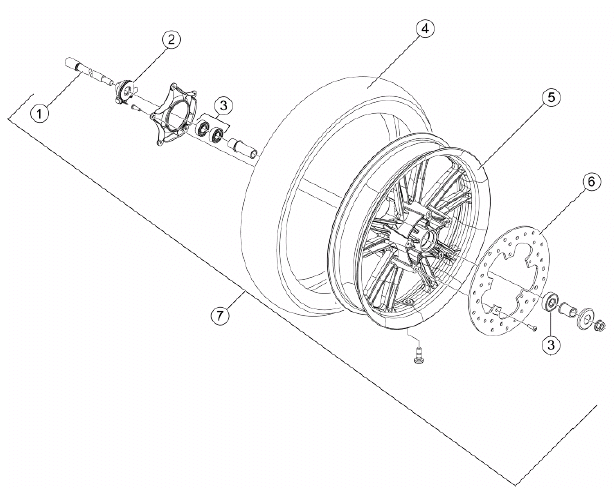 FRONT WHEEL

Rear wheel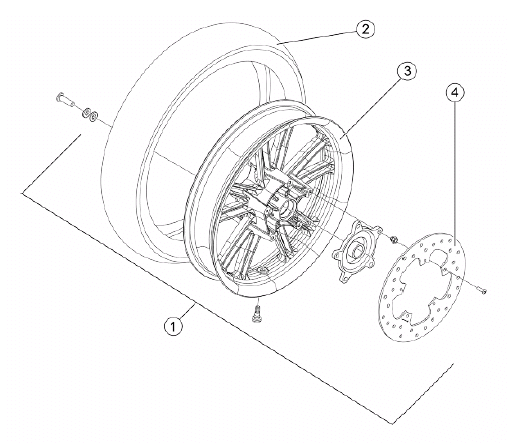 REAR WHEEL

Fuel pump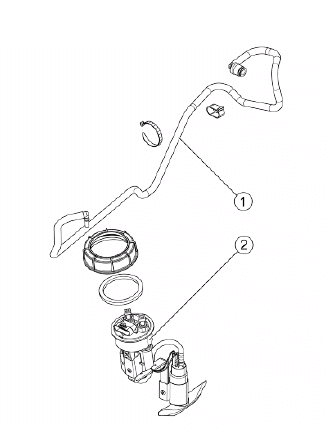 FUEL PUMP

Electric devices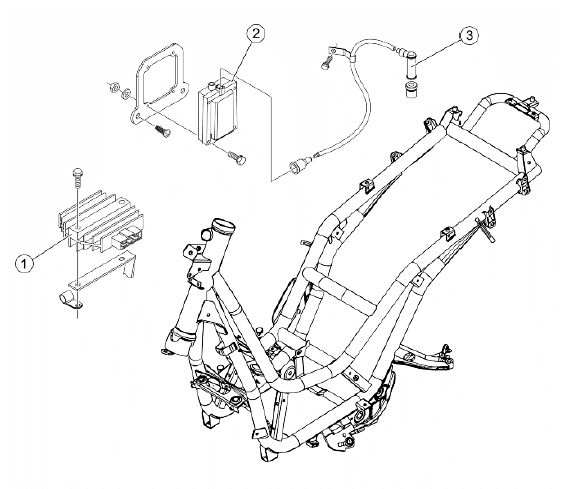 VOLTAGE REGULATOR

REMOTE CONTROLS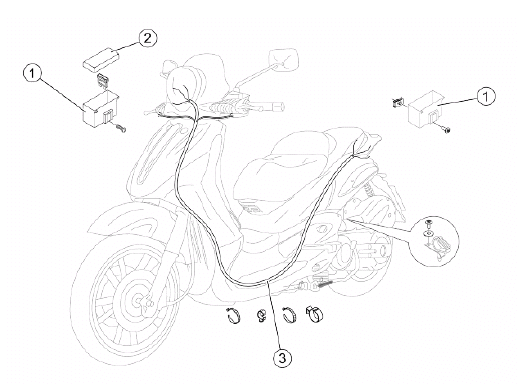 CABLE ASSEMBLY

Electronic controls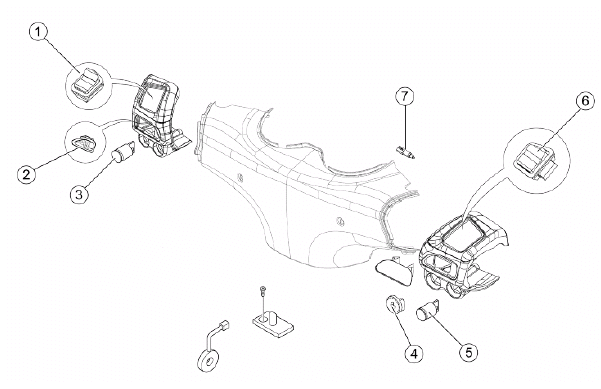 ELECTRIC CONTROLS

Transmissions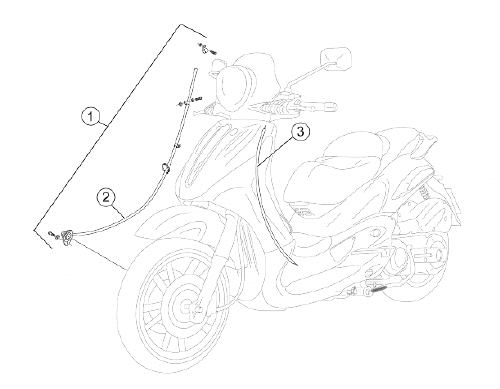 TRANSMISSION

Front suspension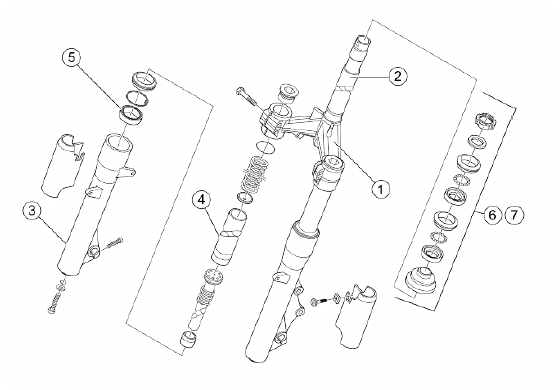 FRONT SUSPENSION

Cooling system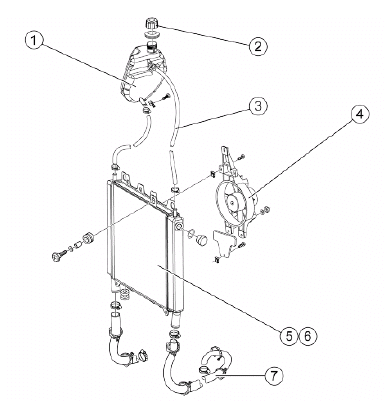 RADIATOR

Windscreen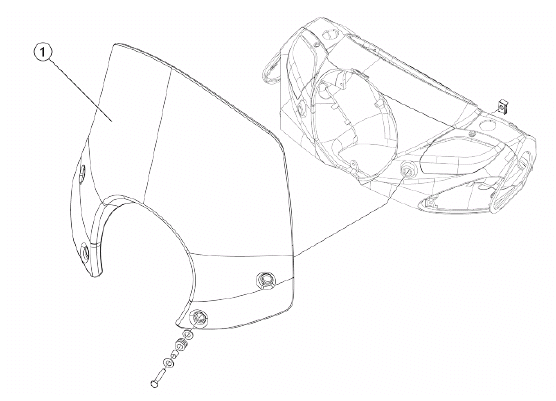 WINDSCREEN

Stickers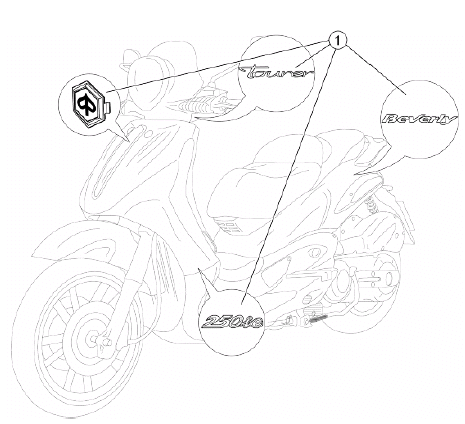 TRANSFERS

See also:
To remove the front mudguard, proceed as follows: On both sides of the vehicle, unscrew the indicated screws and remove the stanchion guard; Unscrew the three bolts indicated inside the mudguard; Detach the brake hose from the two indicated seats and remove the mudguard, pulling from the front.