Starting System Diagram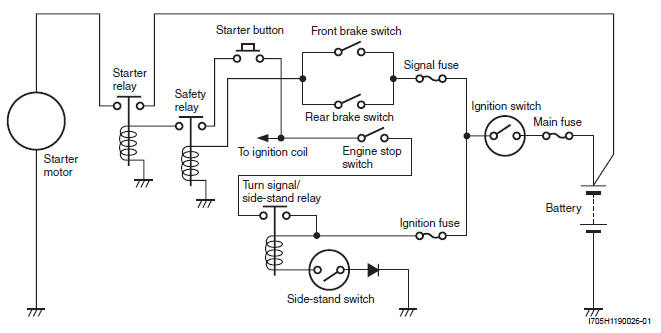 Component Location
Starting System Components Location
Refer to "Electrical Components Location".
Diagnostic Information and Procedures
Starter Motor will not Run
NOTE Make sure the fuses are not blown and the battery is fully-charged before diagnosing.
Troubleshooting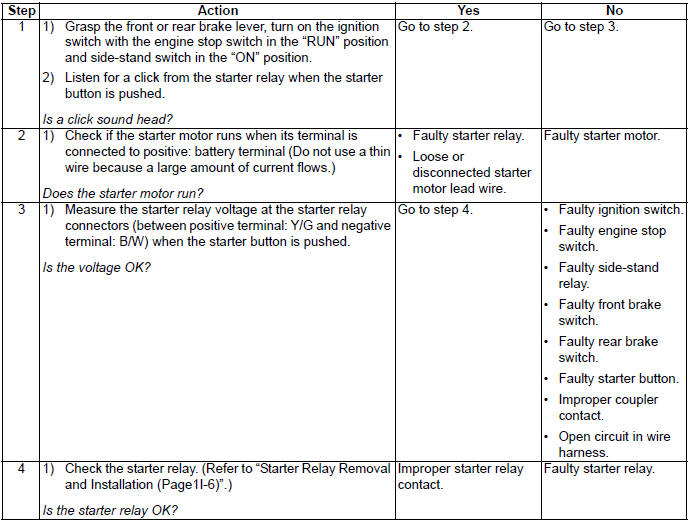 Engine does not turn though the starter motor runs.
Repair Instructions
Starter Motor Components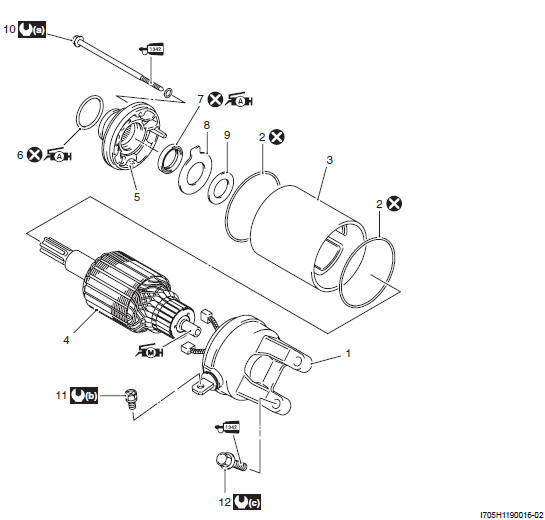 Housing end (Outside)
O-ring
Starter motor case
Armature
Housing end (Inside)
O-ring
Oil seal
Washer
Shim
Starter motor housing bolt
Starter motor lead wire bolt
Starter motor mounting bolt
4 N*m (0.4 kgf-m, 3.0 lb-ft)
3 N*m (0.3 kgf-m, 2.0 lb-ft)
7 N*m (0.7 kgf-m, 5.0 lb-ft)

Apply grease to sliding surface.

Apply moly paste to sliding surface.

Apply thread lock to thread part.

Do not reuse.
Starter Motor Removal and Installation
Removal
1) Remove the air cleaner box. Refer to "Air Cleaner Box Removal and Installation ".
2) Remove the starter motor (1).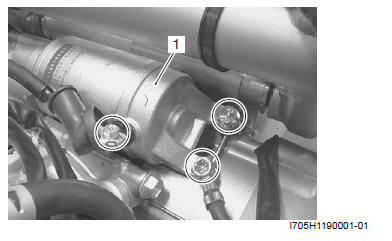 Installation
Install the starter motor in the reverse order of removal.
Pay attention to the following points.
Apply grease to the O-ring.

: Grease 99000-25010 (SUZUKI SUPER GREASE A or equivalent)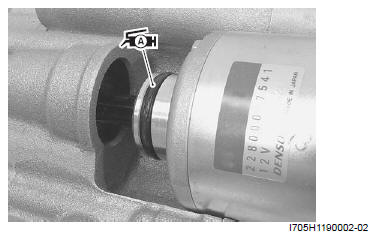 Tighten the bolts to the specified torque.
Tightening torque
Starter motor mounting bolt (a): 7 N*m (0.7 kgf-m, 5.0 lb-ft)
Starter motor lead wire bolt (b): 3 N*m (0.3 kgf-m, 2.0 lb-ft)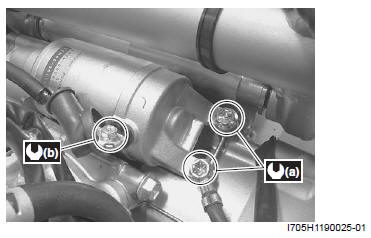 See also:
Refer to "Starter Motor Removal and Installation". Disassembly Disassemble the starter. Refer to "Starter Motor Components". Assembly