Exhaust assy. Removal
Remove the RH footrest.
Remove the Lambda probe from its support and disconnect it.
Cut the fastening clamp on the lambda probe cable.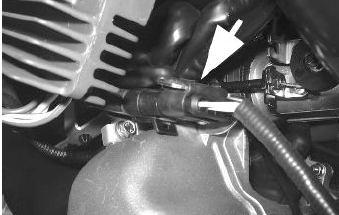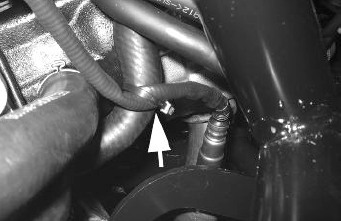 Undo the two exhaust manifold fixings on the head. To unscrew the nuts that fix the silencer flange to the head properly, use a jointed wrench that allows, according to the travel direction, to get also at the right nut. That is difficult to do with a traditional straight wrench.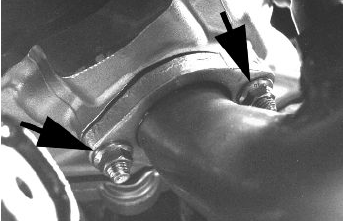 Unscrew the three screws fastening the heat shield to the silencer;
Unscrew the three screws "A" fastening the silencer to the silencer mounting bracket.
Remove the full silencer unit.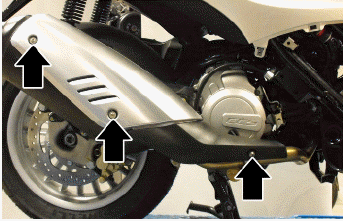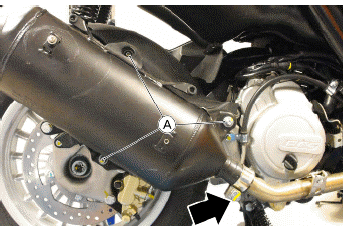 Remove the lambda probe from the manifold.
Removal of the engine from the vehicle
SUPPORT THE VEHICLE ADEQUATELY.
Disconnect the battery.
Remove the side fairings.
Remove the inspection cover in helmet compartment.
Remove the full silencer unit.
Remove the air filter.
Release the blow-by return pipe from the clamp and disconnect it from the head.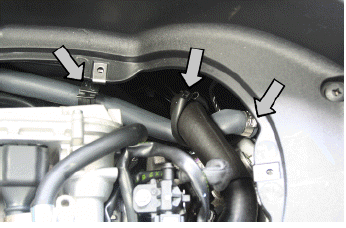 CAUTION
THIS OPERATION MUST BE CARRIED OUT WHEN THE ENGINE IS COLD.
Unscrew the screw indicated in the figure and release the rear brake hose from the silencer mounting bracket;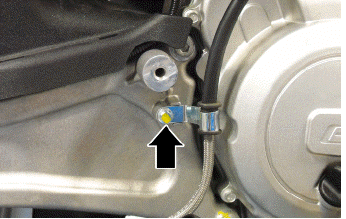 Unscrew the two bolts fastening the rear brake calliper to the silencer mounting bracket;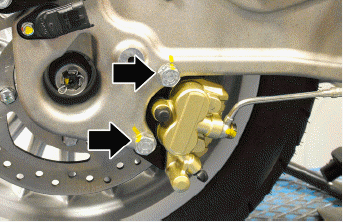 Working on the vehicle right side, remove the coolant intake pipes and empty the system.
N.B.
LET THE COOLANT DRAIN INTO A CONTAINER OF ADEQUATE CAPACITY.
Characteristic
Cooling system fluid
- 2 l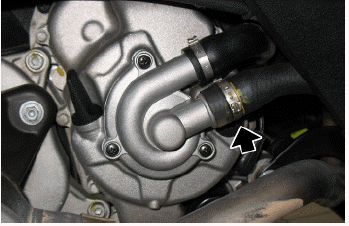 Disconnect:

fuel piping and retainer clamp.
injector connector.
control unit connector.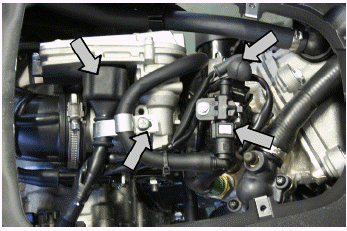 Remove the coolant outlet pipe from the engine as indicated.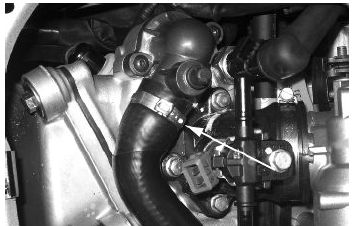 Remove the spark plug cap.
Remove the coolant temperature sensor connector indicated in the picture.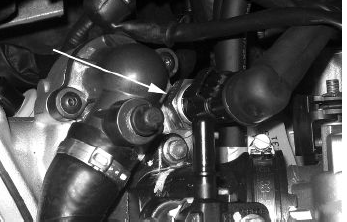 Remove the throttle cables from the throttle body by undoing the nuts indicated in the picture.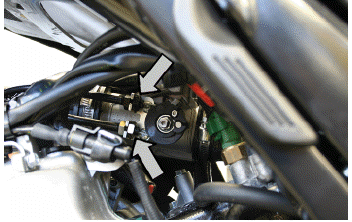 Remove the positive and negative wiring from the starter motor as shown in the picture.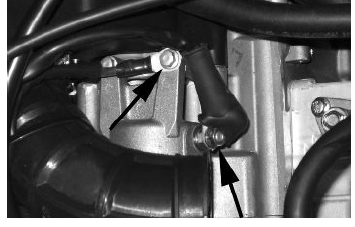 Release the cable harness from the cable grommet clamp and remove the clamp indicated.
Disconnect the oil minimum pressure sensor.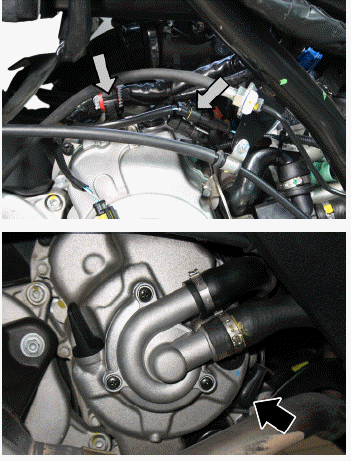 Remove the lower screws of the right and left shock absorber.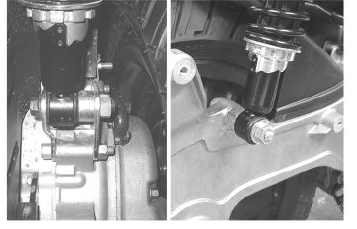 Take out the ground retainer on the engine.
Remove the pin fixing the engine to the swinging arm.
The engine is now free.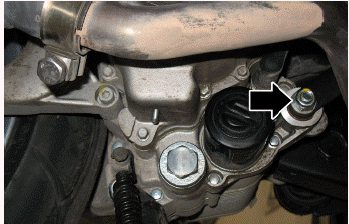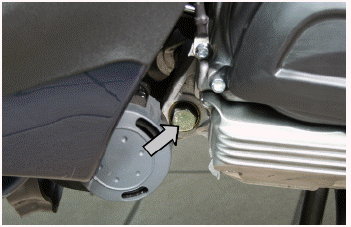 Upon refitting the engine to the vehicle, carry out the removal operations but in reverse order, and respect the tightening torque shown in the "Specifications " Chapter.
Check that there is a small clearance when the valve is in abutment against the set screw.
Check the engine oil level and if necessary, top it up with the recommended type.
Fill and bleed the cooling circuit.
Check accelerator and electric devices for correct functioning.
Pay particular attention to the sleeve, be careful to position the throttle body reference marks as indicated in the picture.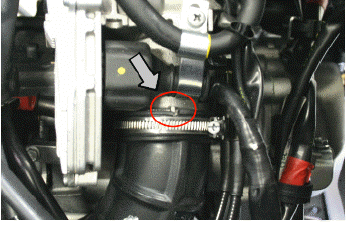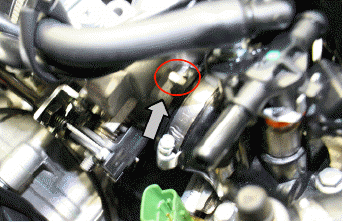 CAUTION
PAY PARTICULAR ATTENTION TO POSITIONING THE THROTTLE CONTROL TRANSMISSION PROPERLY.
See also:
INSTRUMENT PANEL CONNECTOR "A" Left turn indicator warning light (Pink) Immobilizer (Red-Green) Battery-powered (Red-Black) Coolant temperature sensor (Green-Yellow) Not connected Fuel level transmitter (White-Green) Right turn indicator warning light (White-Blue) Low fuel warning light (Grey-Black)