Precautions
Precautions for Engine Electrical Device
Refer to "General Precautions" and "Precautions for Electrical Circuit Service".
Repair Instructions
ECM Removal and Installation
Removal
1) Remove the battery (-) lead wire. Refer to "Battery Removal and Installation".
2) Remove the meter panel. Refer to "Meter Panel Removal and Installation".
3) Pull out the ECM (1) from the front box and disconnect the ECM coupler (2).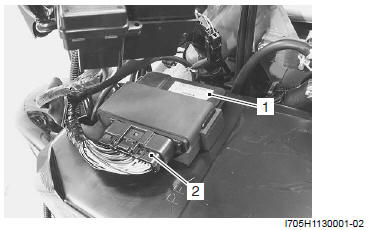 Installation
Install the ECM in the reverse order of removal.
CKP Sensor Inspection
Refer to "DTC "C12" (P0335): CKP Sensor Circuit Malfunction".
See also:
Removal ! WARNING Do not remove the HO2 sensor while it is hot. ! CAUTION Be careful not to expose the HO2 sensor to excessive shock. Do not use an impact wrench when removing or installing the HO2 sensor. Be careful not to twist or damage the sensor lead wires.
Removal 1) Drain engine oil. Refer to "Engine Oil and Filter Change". 2) Remove the muffler. Refer to "Exhaust Pipe / Muffler Removal and Installation".