Precautions
Precautions for Maintenance
The "Periodic Maintenance Schedule Chart" lists the recommended intervals for all the required periodic service work necessary to keep the motorcycle operating at peak performance and economy. Maintenance intervals are expressed in terms of kilometers, miles and months for your convenience.
NOTE More frequent servicing may be required on motorcycles that are used under severe conditions.
General Description
Recommended Fluids and Lubricants
Refer to "Fuel / Oil / Engine Coolant Recommendation".
Scheduled Maintenance
Periodic Maintenance Schedule Chart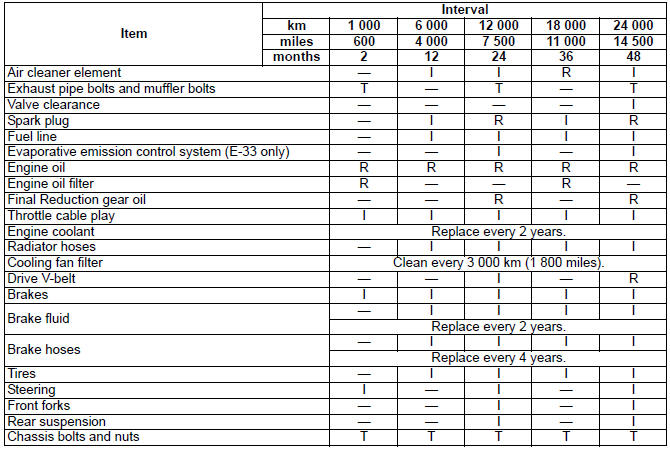 NOTE
I = Inspect and clean, adjust, replace or lubricate as necessary.
R = Replace.
T = Tighten.
Lubrication Points
Proper lubrication is important for smooth operation and long life of each working part of the motorcycle.
Major lubrication points are indicated below.
NOTE
Before lubricating each part, clean off any rusty spots and wipe off any grease, oil, dirt or grime.
Lubricate exposed parts which are subject to rust, with a rust preventative spray whenever the motorcycle has been operated under wet or rainy conditions.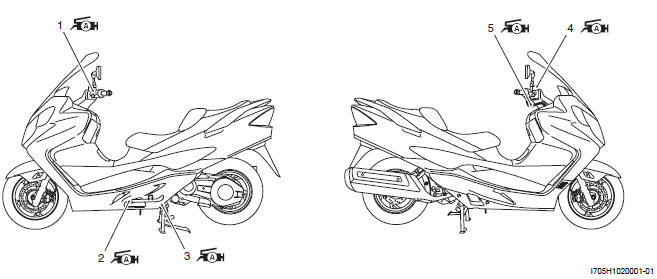 Rear brake lever holder
Side-stand pivot and spring hooks
Center stand pivot and spring hooks
Front brake lever holder
Throttle cables

: Apply grease.
See also:
Electrical Components Location Fuel injector IAP sensor ISC valve TP sensor STP sensor STVA Front brake switch Right handlebar switch Starter relay Mode select switch coupler Ambient air temperature sensor Brake-lock relay Fuel pump relay IAT sensor CKP sensor Generator HO2 sensor ECT sensor Starter motor TO sensor Fuse box Turn signal/Side-stand relay ECM Left handlebar switch Rear brake switch Ignition coil Speed sensor Side-stand switch Cooing fan thermo-switch Cooing fan Horn Regulator/rectifier
Air Cleaner Element Removal and Installation Refer to "Air Cleaner Element Removal and Installation". Inspect air cleaner element Every 6 000 km (4 000 miles, 12 months)